Every country has a fair share of weird comfort food and exotic cuisines and Davao has its own unique, uncanny, and unbelievable foods one couldn't imagine existed. Are they worth our tasting? Then you'll find it out here.
Weird but good food in Davao City
In this We Love Davao page, we will introduce the 10 weirdest food you must try in Davao City. So brace yourselves and don't judge the book first by its cover. Try it!
Fresh Lumpia
(picture reference: here)
Fresh Lumpia is make up of stir-fried vegetables with cabbage or lettuce wrapped with Lumpia wrapper, and filled with sauce The main proteins for fresh lumpia are pork and shrimp but rather than hoisin sauce, a mildly sweet, boldly flavored sauce, fresh lumpia sauce is mostly sweet with garlic notes. and topped with peanuts. Fresh lumpia is one of my favorite snack foods in Davao. Please try this one too If you visit Davao. This snack food is not expensive yet you will be satisfied with it, so what are you waiting for?
Empanada
(picture reference: here)
Empanada is a Filipino Cuisine. An empanada is a dish of a type of baked or fried turnover consisting of pastry and filling, the main ingredients are meat, cheese, corn and etc. depending on the maker; some prefer to use veggies. Empanada can be eaten for breakfast, lunch, dinner, and even snacks. But they can also be easily satisfying and make you full. This is one of my favorite dishes for snacks with a spicy sauce. It is a delicious dish.
 Durian Coffee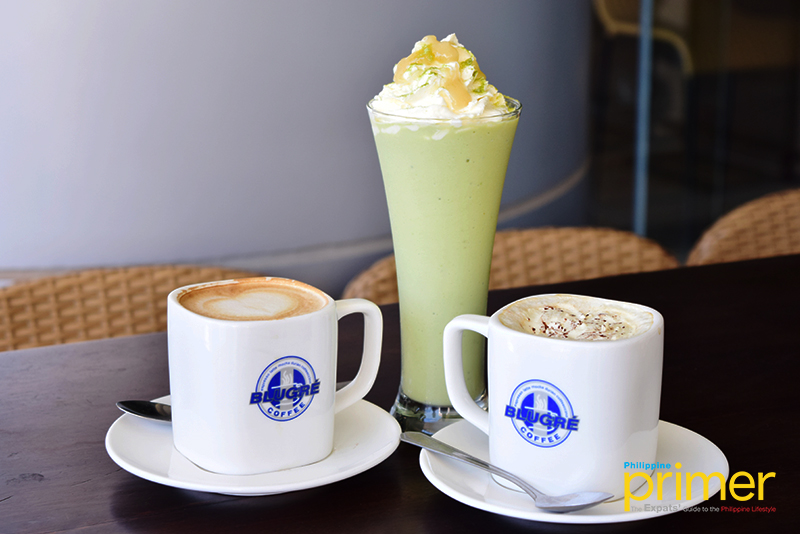 (picture reference:here)
Have you tried durian? There are different styles of durian delicacies found in Davao City such as durian candy, durian ice cream, durian pie but how about durian in a coffee?
Davaoeno's love for this fruit had given birth to different innovations of dishes, desserts, and delicacies but one of the famous and successful fusions is the durian coffee and Blugree Cafe of Davao produced one of the best coffees and variants of durian coffee servings in Davao City. No need to worry about its pungent smell for it dissipates on the coffee and you'll only get to taste the durian. Does it taste good? Absolutely. It's one of the bestsellers in town and it's one of the reasons why the Cafe chain is successful.
Buchi filled with Assorted Flavors
(picture reference:here)
Davaoenos love to play with different types of dishes and make a style on their own with its signature recipe and one of the most popular that Davaoenos been raving about these past years is the Buchi with different flavors. Buchi or sesame ball is a Chinese delicacy made from glutinous rice and originally filled with red bean paste and being Davaoenoes, the people love Chinese food as well that they incorporated different types of fillings in this snack such as a filling of matcha flavor, durian flavor, Nutella flavor, tsokolate (chocolate made from cacao beans) and many more. With the cheap price, you can try this at Roxas Night Market on Roxas Avenue.
Charcoal Ice Cream
(picture reference:here)
We've all tried different types of ice cream and there are weird ones too, with flavors we didn't know how they came about and one of them is the charcoal ice cream. It doesn't look appealing but what it lacks in appearance makes up for its actual taste. This black icecream is unbelievably delicious with a tinge of a slightly bitter taste of charcoal. You can try this cold dessert at the Roxas Night Market at a measly cheap price.
Pineapple sublime
(picture reference:here)
This sublime cheese is only found in Davao City and there are a few variants like mango and pesto sublime. What is this? It is a cheese made from blended cow's and goat's milk and prepared by hand. This amazingly tasty cheese can be paired with several dishes and snacks and a great addition to your meals. Pineapple sublime is a cheese variant added with tropical pineapple. This tangy, creamy, slightly salted sublime cheese is a taste that is something unlike you've ever tasted and you'll keep eating more of this unusually tasty cheese. You can have a taste of this cheese at Malagos Farmhouse Sublime. And bring some at home with these too.
 Mangosteen Wine
(picture reference:here)
There's a lot of mangosteen delicacies in Davao City just like the Durian. There are mangosteen candy, mangosteen coffee which they said is medicinal and healthy, and now mangosteen wine had been fetching good feedback from both locals and tourists alike. You can have a taste of this wine and buy a bottle of it in Wine Woods Apo. And the taste? It tastes almost like white grape wine. It has a tannic, sour, and bitter taste plus this wine has several health benefits. Amazing!
Davao Pomelo & Prawn Salad
(picture reference:here)
This originally Thai cuisine is already one of the Asian fusion served here in Davao City. You can have a plate of this at Seda Hotel Davao on their buffet. This unique dish has pomelo, one of the abundant growing fruit in Davao brings a wonderful taste of sweet and tangy flavor. It is a great appetizer and light meal and it's becoming a bestseller in this said Hotel.
Homemade Lemongrass-Avocado Ice Cream
(picture reference:here)
In Eden Nature Park there is a hidden gem of a dessert that needs recognition. This peculiar dessert is a breath of fresh air while eating it in the beautiful nature ambiance of a place. And who would've thought that lemongrass and avocado would be an awesome match? This light, delectable dessert is like no other from regular ice cream you had. You should definitely order this in their restaurant when you're there.
Bagaybay and Bihod
(picture reference:here)
One of the delicacies you'd probably come across in Davao is the home dishes like adobo, grilled seafood, stews, etc but you might find one of the best dishes being introduced to tourists and foreigners is the bagaybay and bihod and they are… tuna's sperm sac and for female tuna a fish's eggs..? ‌
Yes, you read it right. And they actually taste good and being served in top-notch restaurants. They are cooked grilled, sizzled, fried or in abodo style and the texture is soft, smooth, creamy you'd forget what you ate just now. So don't be afraid to eat this because it's still fish!
You can taste this at Marina Tuna, one of the reputable restaurants in Davao City.
 Civet Coffee
(picture reference:here)
a cup of poop?
This coffee tasted like caramel, hazelnut, and chocolate with an earthy feel and has a pungent, distinct, and alluring smell and you'd probably mistake it for some foreign regular coffee added with some sweet syrups until you found out that this came from the droppings of the local civet cat. Yes, it is from the droppings of an animal who eats coffee beans during the coffee season. And what's special about this civet cat is that it is very picky when eating coffee beans for it only chooses the sweetest and ripest ones and once digested, their body naturally ferments the coffee pulp making the beans rich,  less acidic, and smooth. And the actual taste? Absolutely unique, excellent, and aphrodisiac. Have a taste of this most expensive coffee in the world.
Roasted Crocodile
(picture reference:here)
The weirdest food and one of the exotic dishes that tourists want to try on their bucket list when in Davao City is the roasted crocodile. This fearsome reptile is actually edible only if it's cooked right. There are several ways locals prepare crocodile meat like crocodile sisig, crocodile steak, crocodile kare-kare, and many more but one of the most popular is the roasted crocodile where they barbeque the whole crocodile. And they even said it tastes like tasty fish and/or chicken! Now that's interesting and delicious.
Conclusion
Do you want to try something new such as these weird food in Davao? Which food would you dare try to taste first? Let us know in the comments if you love this list and if you've tried one of these.