There are so many great beaches you can visit to in Davao but which one should you go? I will list 10 of the must-visit beaches in Davao where you can unwind and relax your heart out.
Why these beaches in Davao?
You'll discover that not only these beaches cater beautiful blue-green water scenery but each has its unique reasons why you should visit so don't skip it out because we will be listing the must-visit in the top 1. Here are the lists.
San Victor Island
(picture reference:here)
One of the hidden jewels of the district Davao Oriental is this island and the reason for this is because it isn't so popular than most destinations in the area but the experience is note worthy to visit. It is a lot farther than the other islands but you'll have a great time watching the clear waters in the beach during your boat ride. Once you get there, you'll be enchanted to the sparkling white sand and in the inviting view of azure waters. The resort is not much developed  but don't worry for they have the basic accommodations and amenities available. The island is fascinating you'll have a great time to relax, listen to the waves and if you're lucky, can take a walk in the beach during low-tide and see the rich and abundant marine life at your feet. Isn't that cool?
Buenavista Island
(picture reference:here)
Do you want to rent an island on your own for a day or two? If money is just an object for you then rent this Island Buenavista in Garden City Island of Samal. For the amount of 116,00 pesos (2,406 usd) the island is yours overnight.
In this world-class resort you will be catered and pampered with seasoned butlers to their utmost experience. The lush tropical island resort has an executive suite, six cabanas, a family villa and two island suites. The island itself is surrounded with coral gardens in the beach so snorkeling is one of the best activities here. Aside from that they have you can swimming or go kayaking, scuba diving, karaoke and at night there's fire dancing. They also have a lunch buffet prepared by their chef and you can have a breakfast or snack by their kidney-shaped pool. Also, if you want to have a nice stroll and just smell the beach air, the island is surrounded with the beautiful tropical trees. A lot of celebrities and businessman rent this island and this is just the ultimate getaway if you want privacy and exclusivity.
Talikud Island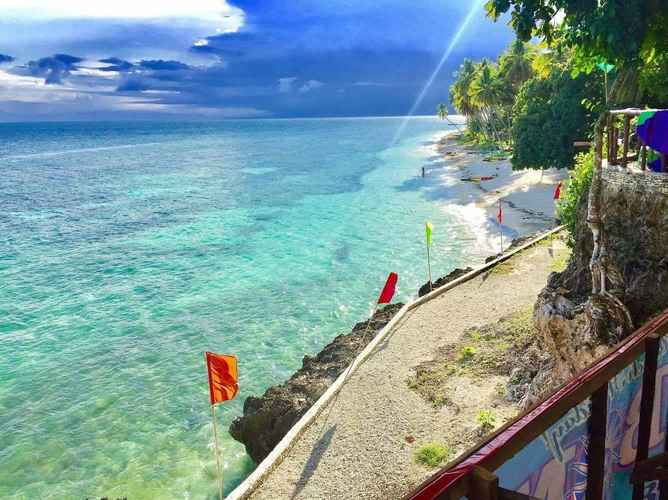 (picture reference:here)
This remote island is your dream getaway because you're not only facing the big ocean but also you'll do a lot of things when you're in this island! They have underwater activities and water excursions. One of the exciting things they do here is their island hopping where you will be taken to the best diving spots on the Island. You'll witness beautiful large corals and protected vibrant sea garden by their snorkeling activities. Then you will be taken to Talikud island itself and lounge on the peaceful white-sand beach and great scenery of sparkling waters. It is a day tour so you'll also pass by several resorts and have a great time smelling the sea breeze.
Malita Dives, Davao Occidental
(picture reference:here)
Who would've thought that Davao has it's own Maldives? And you can visit here without hurting your budget.
Ride a motorboat to the destination and stay on a boat-like cottage in the coastal inlet surrounded by water…and marine coral gardens! The place is a known sanctuary of a fragile and unique kind of coral species, a cabbage-like sea coral that it takes centuries to take form. It is a government-owned area dedicated to preserve and protect these majestic seabed. In low-tide, you can also see starfishes in the entire area.
It is a special and truly a must-visit place for a lot of marine biologists and divers visits this place to witness the fascinating marine life. And did you know that there is a Japanese shipwreck in the area? And it has become a tourist attraction as well. And the breathtaking view and setup feels like you're in Maldives. It's a one-of-a-kind experience!
Canibad Beach, Island Garden City of Samal
(picture reference:here)
If you want a quiet place to chill where it isn't so crowded, you can do your fishing and then dive in a cliff then you need to visit Canibad Beach at Samal Island…and in a cheap price!
The pristine clear greenish waters is so inviting that once you set foot at this place, you'll feel an instant relaxation. It is one of the hidden gems of the Island of Samal because only few people know about this place…or maybe only most locals do. Located at Baranggay Aundanao, Penaplata, it is at the eastern side of Samal Island. The beach is perfect for swimming and also if you go cliff-diving, you'll see the beautiful marine life and coral gardens underwater. The place that magical you will feel like you entered a hidden paradise!
Paradise Island
(picture reference:here)
If you're a tourist and wants to meet a lot of locals, foreigners and other tourists then this is the favorite go-to resort. At a normal weekend, you'll have a fun time in this resort for they have a restaurant with a live band performing. They serve awesome food and have a variety of delectable dishes and ice-cold desserts for the hot sunny ambiance. And if you're the adventure type they also have water activities such as inflatable island, jet skiing, scuba diving, banana boat riding and kayaking. This resort is sometimes packed and you might meet a friend or two here. The staffs are very nice and the vibe here is just so exhilarating at the same time refreshing. And finally, you'll get a sweet view of the sunset or sunrise and beautiful white and cerulean blue water horizon.
Pearl Farm Beach Resort
(picture reference:here)
If you want to spend a luxurious time with exceptional service and accommodations then I am happy to introduce you one of the best beach resorts in Samal Island. This charming private resort is not limited with its guest rooms but you'll get to enjoy their spa area, beautiful lounges, infinity pool, cafe and water sports. The place also has a coral tour where you'll see the thriving marine life and colorful corals. They have a lot more services where you could also do business conferences so it's just your perfect place. The price is on the pricey side but you won't regret your stay here. Also, I'll leave the discovering about the other things in store here for you.
Dahican Beach, Mati, Davao Oriental
(picture reference:here)
They say there's no place like Dahican.
Look no further if you want to have a weekend off the busy city and have a great time in the beach…and the waves! You can do surfing and skimboarding at Dahican Beach Mati, Davao Oriental. The great ambiance, the people and the place itself is enough to make you want to spend more time here. The area is a crescent-shaped coastline with fine white sand and turquoise crystal blue water. The place is quite secluded but recently it had become quite popular with water sports enthusiasts. Plus, fishermen come by the coast so you can purchase their freshly caught fish for your breakfast and lunch. With the local's laid-back ambiance and breathtaking view, Isn't that awesome?
Indo Bali House, Island Garden City of Samal
(picture reference:here)
Do you want to have a Bali experience in Davao? Then we have this on out list for you. This hidden gem is located at Samal Island and a trip away you will be transported to a haven of pure relaxation enchanting Bali inspired experience.
They have a Bali-esque guestrooms with intricate exterior Thai designs, your own charming terrace, instagrammable bedroom and bathroom, a jacuzzi and many more. And they also have a inhouse kawa bath experience and massage service. And after a pampering day, the resort prepares an outdoor dining experience and feast under the stars. Now isn't that so pleasing and not to mention romantic?
Secdea Beach
(picture reference:here)
This beach resort on the list is so underrated that only a few people go to this place but once you'll get here, you'll have a luxurious experience worth every penny! The place is a private-owned resort but don't let that fool you because the place is a 58-hectare haven you'll never get tired of this place. I mean, at least not literally for they offer extensive services from a majestic fishing lagoon, beach lounge, infinity pool, mouth-watering buffet, multi-sports pavilion, clubhouse, inflatable island and so much more. They also housed some wild animals like deers, exotic birds, monkeys etc. The place is just homey and well-maintained with a mixture of vast tropical trees and vast manicured gardens. You also need to check their wooden lighthouse and mangrove park for the place is so romantic. And the beach? You're going to love swimming in the pristine waters. Also if you want to stay a night or two here, you'll be amazed to their beautifully designed guest rooms and I'm sure you'll never be disappointed.
Conclusion
So which place fascinates you most? Which on this list are you stoked to visit? Comment down below and let us know which place made you want to visit Davao's beaches.