You've most probably visited the iconic and popular places in Davao City. And you've eaten local dishes, visit famous attractions, the malls, restaurants, and parks. But your adventure in Davao does not end here if you think you've already visited all the places. These amazing sites will make you rethink Davao and how it always has something on its sleeve and won't fail to amaze you.
Fascinating and Beautiful Religious Places In Davao
Here, we will take you to 10 fascinating and beautiful places you don't believe existed in Davao (in no particular order). And of course, these places are welcome for you to visit. So pack your bags and cameras for you'll be taking hundreds of Instagrammable photos and have a memorable experience on these scenic and majestic views. Enjoy!
Polian Buddhist Temple
(picture reference: here)
The first Buddhist temple in Davao City, Polian temple is smaller in terms of size than Lon Wa temple but the place has historical prominence. There's no entrance fee and everyone is welcomed to meditate and pay respects to The Buddha here. Once inside, you will notice a well-manicured garden and the temple. And, like most Chinese temples, there's a wooden block placed in both of your hands where you will drop it to see if you are allowed to make a wish or ask a question from a container full of wooden sticks of wisdom from the wise Buddha.
Location: Emilio Jacinto Ext., Poblacion District, Davao City

Holy Spirit Adoration Convent (Pink Sisters)
(picture reference: here)
Another place that you will find truly fascinating especially if you haven't been to any of these churches is the Holy Spirit Adoration Convent or known to the common folk as "pink sisters", a Roman Catholic convent, a cloistered-contemplated missionary congregation. There are only about 6 pink sisters convents all over the Philippines and one in Davao City. And what is the catch? The nuns residing in the unique convent live their lives in silence and contemplation. These nuns wear a rose-colored habit or robes that is both peculiar and captivating. Inside the convent, you will immediately notice grills separating the nuns from the visitors. And if you go visit this place, you will most likely see the nuns kneeling in prayer in the chapel in a deafening silence. The reason for the pink-colored robes is because it says to represent love and joy and God's love.
Location: Seminary Rd, Talomo, Davao City, 8000 Davao del Sur

Mindanao Taoist Temple
(picture reference: here)
The Mindanao Taoist temple is less visited and hidden than most tourist attractions due to its location but this temple is still a sight to see. The temple has a three-story octagonal pagoda with octagon-themed windows which resembles a Bagua were in Chinese beliefs, an object that encourages positive life force or chi (life force) and negates bad energy. Inside, you can pray, meditate, and look at the displays of Taoist divinities and intricate design. The place has no entrance fee but you have to offer gratitude to the caretaker for touring you around.
Location: J.P. Cabaguio Avenue, RGA Village, Davao City

Davao Indian Temple
(picture reference: here)
If you have never been to an Indian Temple then this is the chance to have a glimpse of one. The Davao Indian Temple or Davao Sikh Temple is a temple of the Sikhism religion. The word "Sikh" means one who seeks the truth. Visitors are welcome and you can ask someone from the temple to tour you. You are reprimanded to wear conservative clothes and observe in silence.  Inside is a huge altar with various figures of their beliefs, religious symbols in fabrics with various displays of colors. Also, the temple gives free food where residents cook Indian cuisines.
Location: Carlos, Talomo, Davao City, Davao del Sur

Sta. Ana Shrine Parish
A small European-Spanish style church, Sta. Ana Shrine Parish is a quaint Roman Catholic church that has rustic brick walls and cobblestones. The well-maintained church was renovated in 2011 and is also one of the oldest churches in Davao City first founded in 1949. Inside is a gorgeous display of chandelier in the aisle's arched ceiling and intricately designed walls. It is still worth a visit if you'd like to take a quick look at the beautiful and classy designed church.
Location: Sta. Ana Ave, Bgry. 14-B, Davao City, 8000 Davao del Sur

San Pedro Cathedral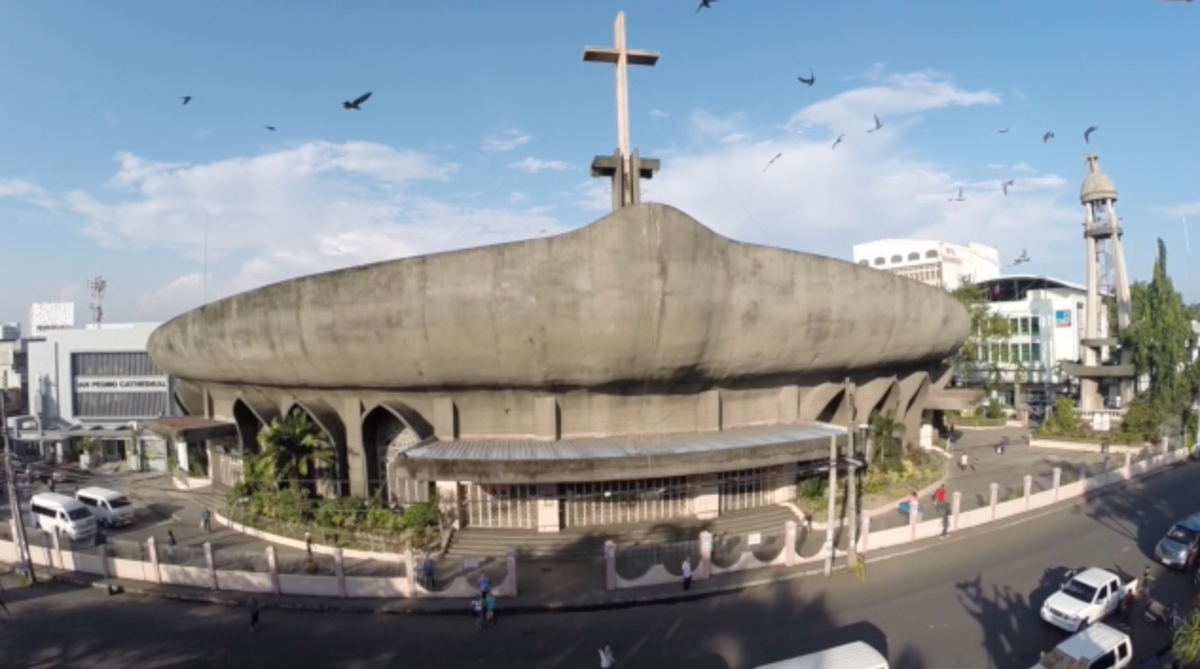 (picture reference: here)
One cannot simply overlook the magnificence and beauty of the structure of San Pedro Cathedral. It is the oldest church in Davao City and has withstood powerful earthquakes throughout the years. The original church was built in 1847 by Spanish settlers and redesigned completely in 1964. The curved design atop the Roman Catholic basilica Cathedral is designed to look like the prow of a vinta, the traditional boats in Mindanao, and on it is a cross statue. The structure of the cathedral is round where inside it looks like a stadium. Outside is a belltower separate from it. The cathedral is recognized as a National Cultural Treasure and truly should be worth stopping by as it is a historical landmark.
Location: San Pedro St, Poblacion District, Davao City, Davao del Sur

Shrine of the Holy Infant Jesus of Prague
(picture reference: here)
If you have a friend who's a local in Davao City, they probably know this place which is known as the "shrine" for it is located on the hill. The vast Christian Catholic shrine is a peaceful getaway if you want some alone time for quiet meditation and prayer. There's no entrance fee in here and the church is open-air. It has well-manicured grass and beautiful grounds with flowers and trees and you are welcome to have a picnic here or just relax in the grass. What's great about this place for it also has a fantastic view of the whole city and a cool wind that is just perfect for you to unwind.
Location: Talomo, Davao City, Davao del Sur

Tamayong Prayer Mountain
(picture reference: here)
Now also called, "Garden of Eden Restored, the sprawling estate is filled with an abundance of lush flower gardens, well-manicured grounds, colorful plants, pine trees, waterfalls and streams and European-styled buildings. It is definitely a place you'll only find in Davao City and people claimed feels tranquil and "heavenly." The estate is owned by a famous pastor named, Pastor Apollo Quiboloy, leader and founder of a Restorationist church called, "The Kingdom Of Jesus Christ."
Location: The Prayer Mountain, Purok 3, Brgy. Tamayong, Calinan, Davao City Jollibee Calinan to Wangan Rd, Intersection Wangan Rd – Calinan Tamayong Rd, Davao – Buda National Hwy, Calinan District, Davao City

Lon Wa Temple
(picture reference: here)
LongHua Temple or Lon Wa Temple is a Buddhist temple and one of the biggest temples in the Philippines. Once you enter the temple, you will feel a serene and calming ambiance like you've just transported into a different world. There's no entrance fee here but donations are welcome. The place is well-kept and you will see monks inside with their daily life. The beautiful oriental structure, Italian marbles, and intricate wood carvings would really fascinate your eyes. If you like to do some quick meditation, it's definitely a great place to go to. Plus, it's amazing to have a peek at the Buddhist monk's world.
Location: Cabaguio Ave, Agdao, Davao City

General Moncado White House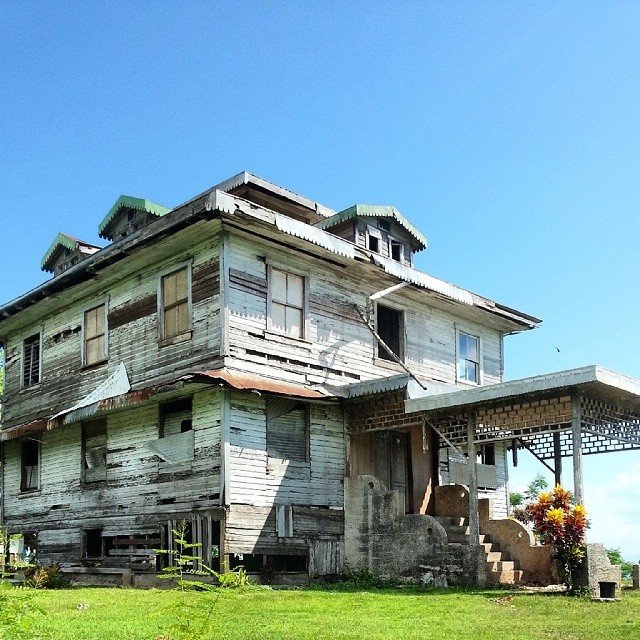 (picture reference: here)
The Moncado White House is considered one of the tourist attractions in Samal Island, Davao City located at the top of the hill. It is known infamously as one of the most haunted places in the Philippines. The abandoned mansion is owned by General Hilario Camino Moncado, founder of the Filipino Crusaders World Army (FCWA) or locally known as "Moncadistas", a religious group. It was built in the 1930s but nowadays has seen better days and was not restored since. It is a famous ghost haunting site claimed to have several ghost sightings by local paranormal experts. Some rumors said that the said religion was actually a cult but hey, those are just rumors. Other than that, it's a great place to visit in the daylight for the view is breathtaking, overlooking the beach and the hauntingly beautiful run-down mansion is a sight to see. It's a perfect spot for picture taking with the sweet sea breeze in the air.
Location: Sta. Ana Ave, Bgry. 14-B, Davao City

Conclusion
Are the lists interesting? Which of the place is the most fascinating? Let us know in the comments which place are you visiting first.