Just like pizza, you doesn't like burgers? I'm sure we crave for it once in a while…or maybe every day! We couldn't get enough of burgers because they're just mouth-watering and so good.
Best Burgers in Davao
Here in We Love Davao we will list the 10 best burgers in Davao City (not in particular order) based on word-of-mouth and by locals. So get ready now and to travel for a yummy trip. And probably, take us with you, too. So here are the lists.
Kalye't-Kusina Resto
(picture reference: here)
Their Double Humble Burger with Cheese Sauce is a trip worth taking in Kalye't Kusina. The Australian restaurant had become quite a talk of the town for their freshly made dishes and the owner itself is absolutely accommodating. They have a lot in their menu with cheese toppings on it and now they introduced this tasty and mouth-watering burger. And they said it is made of 100% pure beef with generous mozzarella cheese with Australian-styled fries as a side dish. It's on quite the pricey side but as soon as you have a bite of this burger, you'll forget the price and say it's worth it. Yumm!
Location: Pelayo 918 Pelayo Compound J.Camus Extension Corner, J. Abad Santos St, Davao City

The Fat Cow
(picture reference: here)
Some secrets just won't be kept forever and just like The Fat Cow Burger from The Fat Cow bistro, they have been one of the best dishes on their menu and one rarely talked about but definitely delish. It is a fine dining restaurant with a charming ambiance. The burger patty is said to be made of 100% Australian beef bountifully laid on your plate. It is on the pricey side but it will be a memorable experience for you and your tummy.
Location: V. Mapa St, Poblacion District, Davao City, Davao del Sur

Spark Coffee+Crafts
(picture reference: here)
This restaurant is cozy at the same time with great food on its palate. And of course, great burger! What's cool about their Burger and Fries is that it's at a reasonable price plus you can choose to add on more toppings to your liking. The delicious burger has great patties and toppings. Just visit and try it!
Location: Paseo Uno Building Ruby Street, Marfori Street, Poblacion District, Davao City, Davao del Sur

Green Rocks Burger Joint
(picture reference: here)
Who says you can't have delicious burgers at a cheap price? Well, Green Rocks Burger Joint will prove that you can have it. Their price starts at 89php (1.85$ Usd) but we are here to give you a cheat sheet and just try their bestseller Double Patty Cheeseburger for 150php (3.12$ Usd) For this price alone and a good tasting burger, I'm sure you're sold. Thank us later!
Location: Al Fresco, Felcris Centrale, Davao City, Davao del Sur

ArmyNavy Burger+Burrito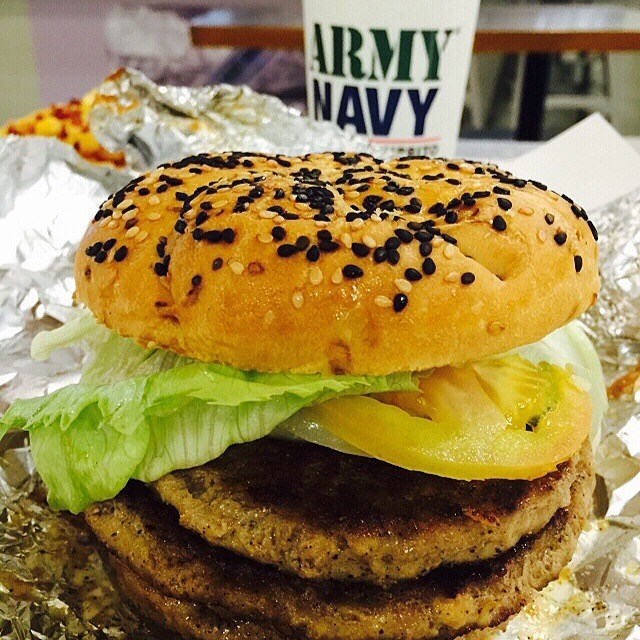 (picture reference: here)
It's no secret that ArmyNavy Burger+Burrito serves delectable burritos and burgers. It's proven time and again that customers keep coming back for it. To cut to the chase, try their Bully Boy Burger, their bestselling burger. With 100% premium beef with triple patty, topped with onions, tomato, lettuce in a Kaiser Bun, you'd surely be a fan. It's that good.
Location: Abreeza Mall, Ground Floor Davao del Sur PH, J.P. Laurel Ave, Poblacion District, Davao City, 8000

Gino's Boom Burgers
(picture reference: here)
A lot of locals claimed that it's one of the best burgers in town. This homegrown burger diner should be on your list of must-try if you're not from Davao City. They have a few bestsellers which include Bacon Mushroom Burger, Western Burger, Double Burger, All-Meat Burger, and Stuffed Burger. Big patties, generous toppings, and affordable prices. What more can you ask for?
Location: J.P. Laurel Ave, Poblacion District, Davao City, Davao del Sur

Burger King
(picture reference: here)
Ever since Burger King entered Davao City, it never runs out of customers. And why wouldn't it be when their burgers are undeniably delicious. Their grilled patty and unique seasoning and signature flavors are to die for. Also, the giant chain always has playful new burgers on their menu so you'll never get tired of their tastes. Their Barbeque Bacon Cheese Burger and Double Whopper Bacon Cheese Burger are just two of their bestsellers. It's unforgettable and so yummy you'd definitely have a mental note wanting to come back here.
Location: J.P. Laurel Ave, Bajada, Davao City, 8000 Davao del Sur

Space Burger
(picture reference: here)
One of Davao's favorite burger go-to is Space Burger for their flame-grilled patties and mouth-watering signature flavor. It is indeed in space for you've never tried the taste of their burger before and it's been in Davao City for quite some time. We love this burger for the taste is always on point, the patty is 100% beef and is juicyly well-grilled, some homemade honey-cured bacon as toppings and the price is just right, even affordable. And their bestseller? Well, everything is. Just try them all.
Location: Gaisano Mall, J.P. Laurel Ave, Bajada, Davao City, 8000 Davao del Sur

Zark's Burgers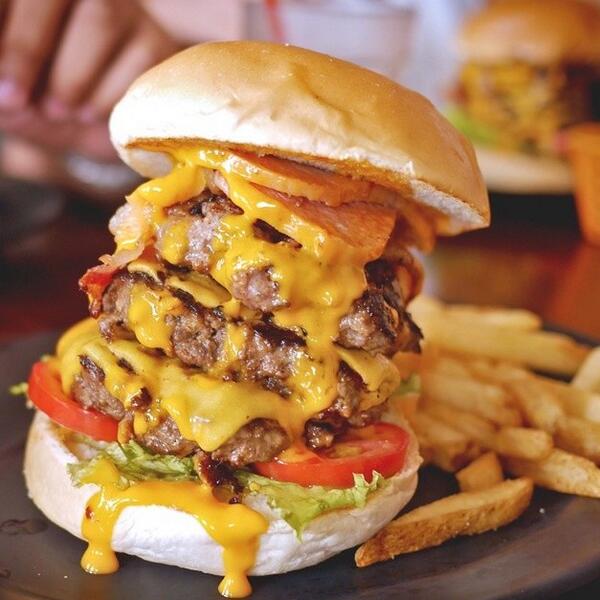 (picture reference: here)
Zark's Burgers is a favorite in the Philippines and when it opened in Davao City, people were in love with it. And why not? Their burgers are big, delicious, spot-on at an average price. No wonder branches from all over the Philippines keeps popping everywhere. They have a couple of burgers on their menu each with different types of toppings and styles…and they are all great. Do you want to go home full? Then you need to go here. They have several bestsellers of course and we'll just name these top three which are the Thundermac with Cheeseburger, Jawbreaker, and Zark's Ultimate Burger.  Enjoy!
Location: 2/F SM City Ecoland

Red Corner Burger Cafe

(pictere reference :here)
One does not simply miss this one of the best homegrown burgers in town and the locals had been claiming it's just one of the best ever in Davao City. It's a personal bias and a no brainer for me if you'd ask me if it's good here or not because I'm sure you'll love Red Corner Burger Cafe as we all Davaoenos did. The quantity and quality of the burgers is present in your plate you'd be satisfied already just by looking at the plate. And if you ask us what are the bestsellers? Everything burgers! Depending on what toppings and add-ons you'd like, you can choose to either one of the burgers and sure-fire everything is just delicious. And if you're up for the challenge, try their #redcornerburgerchallenge.
Location: J. Luna St, Poblacion District, Davao City, Davao del Sur

Conclusion
Did we made you hungry on this list? So which burger is your favorite here? Let us know in the comments what do you think and if we missed some delicious burgers in Davao City. We'd love to know more about you guys!