First time in Davao City? If you don't know where to stay, don't worry because we will be introducing you to the best hotels you can stay in in Davao for an unforgettable and comfy trip. We got you covered.
*Because of the Covid 19 some Hotels are temporarily closed please message them first for inquiry and some information.
Best Hotels in Davao
From upscale hotels to affordable and reasonable ones, we will list the top 10 best hotels in Davao City at no particular order and why you should stay there. So sit back and enjoy.
If you want to reserve these hotels, agoda, Expedia are useful.
Ok, Let's go!
Red Planet Hotel
(picture reference: here)
Affordable, fast free wifi, a nice, clean bedroom. These are among the accommodations offered in Red Planet Hotel and it is known to have the fastest wifi in the hotel industry in the Philippines. Staying here for a night costs at least 1,350+php ($28.+ USD), which is a price good enough if you want to shell out for a good hotel. Plus, they have laptops you can use in their lobby for free. And the place is known to have a very decent bedroom; clean, comfy and a big bed.
Location: J.P. Laurel Ave, Buhangin, Davao City

Hotel Uno
(picture reference: here)
This hotel has basic accommodations and has minimalistic design bedrooms with neutral colors that has a comfy vibe. Hotel Uno has a reasonable price with amenities such as internet access, laundry services, in-room dining, conference rooms, and an in-room massage service. The price will definitely get you saving a lot of bucks if you chose to stay here plus the place is clean, comfortable, and has good feedback among travelers. The price starts at 250php ($5.20 USD), a single fan room to 1570php ($32.67USD) for deluxe, air-conditioned room.
Location: C. M. Recto, Poblacion District, Davao City

Green Windows Dormitel
(picture reference: here)
From a dorm-type room to a majestic executive type room, Green Windows accommodates both luxurious to reasonable room type. The hotel is a great choice because it is one of the hotels located at the heart of Davao City. This hotel is reputed to be one of the best hotels in Davao for it offers dorm-type rooms if you are staying with friends and at the same time, it is spacious, clean, and with good hotel service. Green Windows also has a cafe for dining. Their standard rooms offer complimentary breakfast. The prices start at 2,188php ($45.+USD) and for dorm-type room  2,230php ($46.40USD) good for four people.
Location: FTC TOWER, 5Th Floor, 1034 Mount Apo St, Davao City

RedDoorz Plus Hotel
(picture reference: here)
Easily affordable, accessible, and cheap hotel just right in your budget. And what's cool about this hotel is that their hotel industry is growing fast so you'll find a couple of branches in the city.  They have basic amenities and breakfast in bed plus, it's not going to hurt your pocket and this is a good hotel. The place is well-maintained, clean, and comfy. Just everything we need in a hotel. The price for a night here starts around 749php ($15.58 USD).
Location: LCI Bldg. II, 100 Roxas Ave, Davao City

Oyo 496 D'Abirus Inn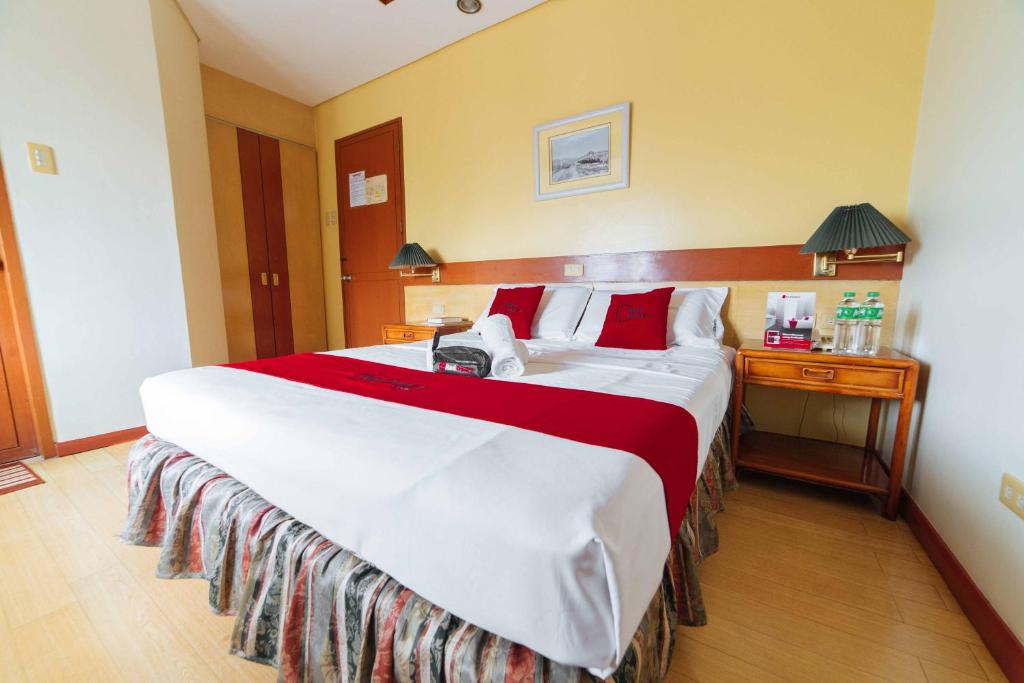 (picture reference: here)
One of the popular hotel in Davao City for its budget-friendly price. The hotel offers your basic need for a comfy roof in your head for your stay in Davao City. Their rooms are all fully airconditioned, have free wifi access and you can choose from a single bed to a King-sized bedroom. Aslo, it's in the middle of the city so it's easy to access Davao City's attractions and malls. Price starts at only 699php ($14.54USD) definitely, it won't hurt your pockets.
Location: Fronting Camp Leonor and Police Barracks, San Pedro St, Davao City

Waterfront Insular Hotel Davao
(picture reference: here)
If you want some quiet, luxurious, and A-Class time staying in a hotel in Davao City with spectacular service, then this is one of the best choices. Waterfront Insular Hotel Davao has expansive accommodation not only their impressive room but also free breakfast in their dining area, concierge, room service, free wifi access, an outdoor pool and jacuzzi, conference facility, massage area, fitness center, and even a medical clinic. They even have a free parking area. The hotel is posh, comfy, and beautifully furnished. One of the best hotels in Davao City, it also has a great beach view of Davao Gulf and Samal Island. Plus, the hotel serves sumptuous dishes showcasing Davao's local delicacies and western favorite comfort food. Truly a place you shouldn't miss. Prices start at 3000php ($62.39USD) for their standard room.
Location: Lanang, Davao City

Hotel Galleria Davao
(picture reference: here)
Another feel-at-home hotel with an easy comfy vibe, Hotel Galleria has all you need for a reasonable price. The rooms have basic accommodations and their amenities include room service, concierge, meeting or conference rooms, a pool, a bar/lounge area, restaurant, a separate living room and bedroom space, laundry service, free wifi, and supervised kids activities. The place is just perfect if you just want to stay in a hotel that has fairly expansive services that will cater to your needs. Prices starts at 433php ($9 USD) at the standard room.
Location: Gov Duterte St, Poblacion District, Davao City

Park Inn by Radisson Davao
(picture reference: here)
A good value for money, Park Inn by Radisson is one of the amazingly luxurious hotels you can stay at in Davao City plus its Instagrammable design and furnishing! Located just 15 minutes away from the airport and just beside SM Lanang Premier, Park Inn is easily the choice if you want an exclusive-type hotel. Park Inn's amenities include room service, concierge, supervised kid's activities, a fitness center, a pool, internet access, laundry, bar and grill restaurant, and dry cleaning, a rental car service desk onsite, and a separate bedroom and living room space. Prices starts around at 2,975php ($61.89USD) for their room.
Location: Pan-Philippine Hwy, Agdao, Davao City

Tinhat Boutique Hotel and Restaurant Davao
(picture reference: here)
A quaint hotel that makes you feel some staycation vibe. It is easily one of the homey hotels in Davao plus at an affordable price. The hotel boutique has its selection of rooms, concierge, minibar and restaurant, wifi-access, a business center, and dry cleaning service. You would easily be impressed with the interior design of the hotel for it is styled in a Mindanao-esque design.
Their food is clean and delicious and the staff is friendly and accommodating. If you want to feel-at-home in a hotel while in Davao City, then this place is for you. The price starts at 880php ($18.31USD), an amazingly low price.
Location: Artiaga St, Poblacion District, Davao City

Seda Abreeza
(picture reference: here)
Seda meaning "silk" is an impressive hotel just beside Abreeza mall which is one of the best new hotels in Davao City. The hotel has a selection of rooms, a pool, a gym, a club lounge and a restaurant. Inside the hotel, you would notice the majestic furnishings, decors, and earthy colors which are calming for the eyes and at the same time comfy and classy. The catch? Not only will you enjoy your stay in this cozy hotel but you'll definitely love their food here. Their chefs serve excellent dishes both local and foreign comfort food that are known to be all mouth-watering dishes. Their price starts at 3,800php ($79.00+ USD).
Location: J.P. Laurel Ave, Poblacion District, Davao City

Conclusion
Which hotel would you love to stay in? Are you excited in your trip to Davao? Let us know in the comments if you've been to one of these hotels.