Davaoenos are indulgent and they love food, attractions, and relaxations so one must hint that massage and spas are thriving in the city.
Massage and Spa in Davao City
In this article, I will list the 12 massage and spas in Davao City (not in a particular order), you need to visit. Feeling a bit hard on your muscles? You definitely need a trip to one of the massages here.
PalmStone Wellness Spa
(picture reference: here)
Palmstone Wellness Spa is one of my Favorite Spa in Davao City so far. This massage Spa is very affordable yet you will never get disappointed with their service, the quality was very good. Whole Body Massage (Swedish-Shiatsu),Hot Stone Therapy, Ventosa Therapy, Dry massage, Thai massage. My favorite one is Hot Stone Therapy which can reduce stress and increase relaxation. For those people who are hard working out there, what are you waiting for, visit and try PalmStone Wellness Spa I can assure you that you will never regret it yet you'll get addicted to it.
Location: Door #8, Teonora, Arcade, Mc Arthur High way, Matina Crossing, Davao City
Opal Jhane Thai Massage Spa
(picture reference: here )
Opal Jhane Thai Massage is offering the best reflexology foot massage A good Reflexology Foot Massage is an incredible healing force that can help alleviate symptoms such as headaches, insomnia, chronic, fatigue, dizziness, as well as help treat the underlying cause of many internal disease such as liver disease, kidney disease, heart disease. with a very affordable price, enjoy and relax with Opal Jhane Thai Massage. They opened the clean branch near Victoria plaza.
Open: Monday to Sunday 1PM -1AM have a good relaxation 
Oriental Touch Shiatsu Center
(picture reference: here)
This spa is at a pretty affordable price plus they have variants of massage oils to choose from like lavender, peppermint, spearmint, and many more. Their massage types are shiatsu and Swedish style which you can choose and extend for an hour or two.  With a nice ambiance and accommodating staff, truly a trip worth taking.
Location: Door 3, Ggo Building, J.P. Laurel Ave, Barangay Wilfredo Aquino, Bajada, Davao City

(the branch is closed now)
Thai Boran
(picture reference: here)
Who wouldn't want a good stretch and massage from an aching muscle? Thai Boran is a personal favorite for they have an affordable price plus the place and massage rooms are pretty fancy like in a Thai setting so it feels a bit like Bali…well, at least the place. Their massage types are Thai, Swedish, and Thai aromatherapy massage which you can also extend for more time and experience each type of massage. Moreover, they have complimentary hot tea after the session. Aren't they a sweetie?
Location: El Bajada Hotel, J.P. Laurel Ave, Bajada, Davao City

Sebo Massage
(picture reference: here)
Davaoenos loves this massage center for you can avail massage for a cheap price if you come early! If you come as early as 8 am-12 pm, they will only charge 150php ($3.15 USD) and 12pm-4pm ($4.14 USD). The price goes back to its regular rate from 4 pm onwards. Their services include shiatsu, Swedish, and Thai style and their signature hot stone massage.
Location: 401 Ramon Magsaysay Ave, Poblacion District, Davao City

Basic Kneads Massage and Wellness
(picture reference: here)
Another massage center at a reasonable price, Basic Kneads Massage and Wellness caters to every customer's needs. They give you options for your choice of massage oil during the session and you have the choice to either a Swedish, Shiatsu, or combination massage. Moreover, they keep track of their loyal patrons so they ask for your name and massage preference like a record book. Plus, a complimentary hot green tea after the massage to feel even more relaxed. Cool!
Location: 2nd Floor Gempesaw Bldg., Quimpo Blvd. Ecoland Phase 1, Davao City

Davao YLEO Spa
(picture reference: here)
A truly charming and unique spa center, Davao YLEO spa stands for Young Living Essential Oils which means they are specifically using these medicinal and "magical" oils. An authentic aromatherapy spa, once inside you will be greeted with a soothing and relaxing smell of oil. The spa offers the Raindrop Technique Therapy, an aromatherapy art with vita flex technique using the YLEO oils. What's even more appealing in this spa is that you can purchase their display of charms and crystal gemstones which you can place at home for relaxation. Babies and pregnant women are welcome in their spa for a mild and gentle type of authentic aromatherapy massages.
Location: #12-13, Right Wing, 2nd Floor Matina Town Square, KM5 Gen. Douglas MacArthur Hwy, Talomo, Davao

Solaz Massage and Spa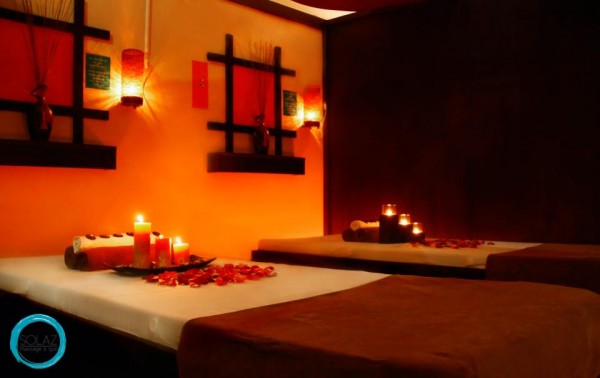 (picture reference: here)
One of the favorite massage spa go-to here in Davao, Solaz Massage and Spa has its favorite 'Piedra' massage which has an added volcanic stone massage on top of the aromatherapy massage, and 'Sueno' which is their regular aromatherapy massage.  They also offer ventosa, an ancient form of traditional therapy using glass cups and a full-body scrub as well. Just a wow spa day!
Location: Tulip Drive Corner, Walnut Drive, Ecoland Subdivision, Phase 1, Ecoland, Davao City
Namm Spa
(picture reference: here)
If you want an extra luxurious spa and want to spend a little extravagant then visit Namm Spa. "Nahm" stands for water in Thai so expect this spa with a water experience. Why? Because you'll dip into the tub with water first before getting your massage. They have a variety of different types of massages to suit your needs; they have a Swedish massage, Sports Massage, Anti-stress massage, Traditional Thai Massage, and Reflexology Foot Massage.
After a relaxing bath, they will start with your choice of aromatherapy massage plus an aromatic exclusive essential oil, said to be effective for relaxation, detoxification, and muscle tension.
Location: Reyes Drive, Bo, Stella Hizon Rd, Buhangin, Davao City

Infinity Bliss Massage & Spa
The massage and spa had been operating for several years already and their services are reputedly good even on a budget-friendly price. They offer Swedish Massage, Hot Stone, Ventosa, and Foot Reflex massage, each perfect to de-stress our body from a busy day. A lot had been going back to this spa for not only they are located in the heart of the city but also they have professional massage therapists.
Location: Angeles Bldg, 2nd Floor, Claro M. Recto Ave, Poblacion District, Davao City

Elysia Wellness Spa
(picture reference: here)
One of the best massage spas in town, Elysia had been gaining a lot of loyal customers for their wonderful service. The place itself felt healing and rejuvenating most especially if you're feeling a little tired or drained. You can choose either one of their services or a combination of them which are Swedish, Thai and Shiatsu massage. They also offer the favorite add-ons during massage sessions which are the ventosa, bamboo, and hot stone massage. Plus they are pretty accessible in the city for they have multiple branches.
Location: Peace Ave, Bangkal, Talomo, Davao City
Pohoda Spa and Sauna
(picture reference: here)
Who wants some sauna + massage + spa? Then Pohoda Spa and Sauna is the place for you. Pohoda which means "peace" or "contentment" in Czech, offers a peaceful and rejuvenating experience in one place. Their signature massage is a mixture of Ayurvedic treatment and acupressure which is a Balinese massage technique. They also have a body and facial treatments in Balinese inspired. Plus, you can take advantage of their spa packages if you want a combination of traditional body scrubs, herbal steam, massage, and facials.
Location: Emilio Jacinto Ext, Bajada, Davao City
Conclusion
Do you like this list? Which massage and spa entice you most? Let us know in the comments what are the other massage and spa in Davao City and your experience.