Pack your bags, swimsuits, and your coats coz on this page I will take you to the best nature-based places and beautiful views in Davao City. Planning a trip to nature? Don't worry coz we got you covered.
Take a chill pill and visit these places in Davao
Whether you are a local or a tourist, you must visit these places and have a memorable, picture-perfect time to unwind and recharge. Check the lists out!
Seagull Mountain Resort
(picture reference:here)
Known as The Little Baguio of Davao, it is one of the great places to chill and enjoy a scenic view of the beautiful mountains. Plus, they have a swimming pool where the water came from the waterfall. Yes, you read it right. It's from the waterfall. Take a nice dip in the cool waters of their pool and then after that, you can go to their coffee shop and steakhouse and enjoy their hearty sumptuous meals. Also, don't forget to order their snack, a choco moron (glutinous rice with chocolate) and sikwate (hot chocolate beverage). It's is one of the famous sought-out delicacies and the bestseller in the resort. And one more thing, they have a golf course so you can play this exciting sport here.
Camp Sabros
(picture reference:here)
Take a trip somewhere where even if it's in the middle of the afternoon you will be surrounded by chilly cold fog…in Davao? Yes! there's a place that not only you will be smelling the cold mountain air and fresh pine trees but you'll also enjoy exciting outdoor activities.
Camp Sabros is located In the highlands of Kapatagan, Digos City, Davao Del Sur so expect beautiful mountain views and the exhilarating feeling of forest breeze. To get there, you will either hike or ride a horse.
You can stay a night in their charming cabin-like guestrooms. They have a zipline, cable lift, and Treetop lapel where you can enjoy a thrilling view of the deep heights of the Kapatagan mountain forest. Also, they have a bar and billiard area. And the place is really great if you want a time out of the city. Thank me later.
Bamboo Sanctuary and Ecological Park
(picture reference:here)
Enjoy a fresh and cool bath from a spring in the pool and a number of great outdoor activities in this resort. Located at Malagos, Baguio District, Davao City in just one place you will have instant relaxation and a trip to nature. The resort is best known for its architectural bamboo lofty dome similar to the one you can see in The People's Park, Davao City. Also, the place has a sophisticated guestroom with a jacuzzi if you want to stay here. The resort has also great activities you can enjoy such as archery, ATV, kayaking in the lake or you can use their gondola, like the one you can find in Venice! And their garden is truly picturesque you'd love to stroll and have a serene time for yourself.
Eden Nature Park
(picture reference:here)
This list wouldn't be complete without this popular go-to place for every tourist. Eden Nature Park is located in Eden,  Davao City far away from the busy city. In this place, you'll bask in the crisp breeze of vast pine trees and mountain forests. There are several things you can do here such as horseback riding, skyriding, sky cycling, fishing, a shuttle tour in their area, and many more. Moreover, they have a flower garden, a butterfly garden, a hiking trail, and wild animal parks. You can also stay In their guestroom and enjoy the night here to unwind. This place is true to its name: Nature.
Buda Vista Vacation House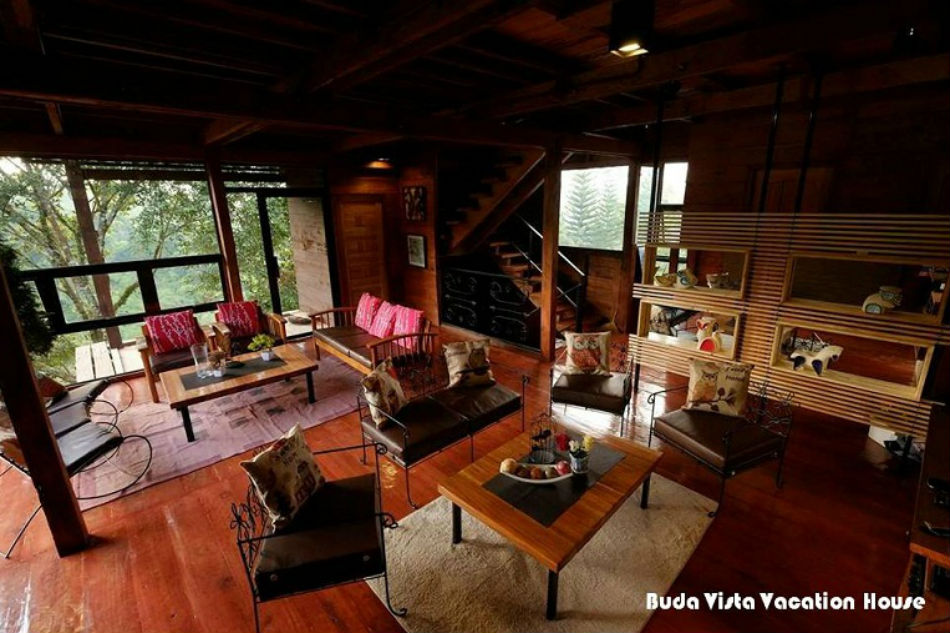 (picture reference:here)
Another place to add to your bucket list if you are looking for a perfect time for your family to relax…or with yourself.
This vacation house is located at Marilog District, North Cotabato Davao City and if you plan on staying here, expect a coffee or tea area indoors where you will have the perfect mountain view in their window walls. The vacation house is like a dream resthouse for you can just stay indoors while having a great view of the mountainous and forested area. They have beautiful oriental furniture and a balcony. And if you want to take a dip in the middle of nature, they have an infinity pool surrounded with a flower garden. Such a treat!
Balut Island
Another way to connect to nature and if you are brave enough, you can visit this active volcano located at Saranggani, Davao Occidental. You can climb and peak at the volcano's crater and believe me, you can also see Indonesia in a clear sky. The place is abundant in coconut trees, exotic fruits, and wild animals, and of course, you can totally reconnect to nature by swimming on the beautiful turquoise beach. You can also just walk on the beach and enjoying the summer breeze and tropical trees. A totally calming experience and a great time for solitude.
Alice Log House
(picture reference:here)
Do you want to stay in a place where it feels like you're abroad? Then worry no more because you don't have to go outside Davao to stay in a log cabin with a surreal view of a sea of clouds in your room! Alice Log House is located at Bagong Silang, Baganihan, Marilog, Davao City. Experience a cozy time in their log house to just unwind and feel the chilly mountain air. They have a recreation area and indoor activities like karaoke, a billiard table, and a number of board games for the guests to enjoy. Not to mention that the place serves awesome hot and fresh food to couple the perfect ambiance already. Also, the place has beautiful intricate furniture and an aesthetic vintage Filipino traditional feel. for you to take pictures with. Enjoy.
Lake Carolina
(picture reference:here)
You would be so surprised that such a majestic lake can be found in Davao.  Feast your eyes on this beautiful and mysterious blue-green lake located at Davao Coastal Rd, Baganga, Davao Oriental. Not only you can take a swim here in this lake but it is absolutely Instagram-worthy! The lake has thriving marine life so you can see it underwater when you take a quick dive. It is one of the underrated tourist destinations and one you shouldn't miss visiting in Davao.
Mount Hamiguitan Range Wildlife Sanctuary
(picture reference: here)
If you want to ultimately commune to nature and recharge, then you need to visit this mountain because you'll have a one-of-a-kind experience here. This wildlife sanctuary is a protected area and declared UNESCO WORLD HERITAGE SITE in 2014. What's special about this mountain is that it is one of the few largest pygmy forest in the world. The place is enchanting and not to mention beautiful rich in biodiversity and abundant flora and fauna. Once you're here, you will be entranced to the animals and insects inhabiting here for you've never seen them like it anywhere but here. This mountain is located at Mati, San Isidro Davao Oriental. There's also a Natural Science Museum here. Going here, there is a guided tour to other beautiful attractions like waterfalls and natural pools. And at night you can camp here in a tent. A trip to nature indeed!
Aliwagwag Falls
(picture reference:here)
The pride of Cateel, Davao Oriental is a cascading waterfall that is both enchanting and perfect for nature lovers. You can enjoy at your heart's content basking in the cold freshwater of these falls. And yes, it's really cold here so prepare a nice hot meal afterwards. The falls is also huge so you can just swim anywhere if you want a little privacy. And did you know that this falls provided the locals water to drink? It is one of the cleanest water in the region. At first sight, you'll see a breathtaking great view of the falls.
Conclusion
Do you love this list? Which destination entices you most? Let me know in the comments!