There are several beautiful places you can visit in Davao City plus, it is easy to go to other neighboring provinces with popular tourist spots. Want to take a ride and visit these places? But first, get to know the must-visit tourist spots in the Land Of Promise and you'll see why they say that Life is Here.
Must-Try Tourist Spots List in Davao:
Are you excited? Then here's our list and let's save the best to the last in the number one spot.
These are Must-Try Tourist Spots in Davao City!
Malagos Chocolate Museum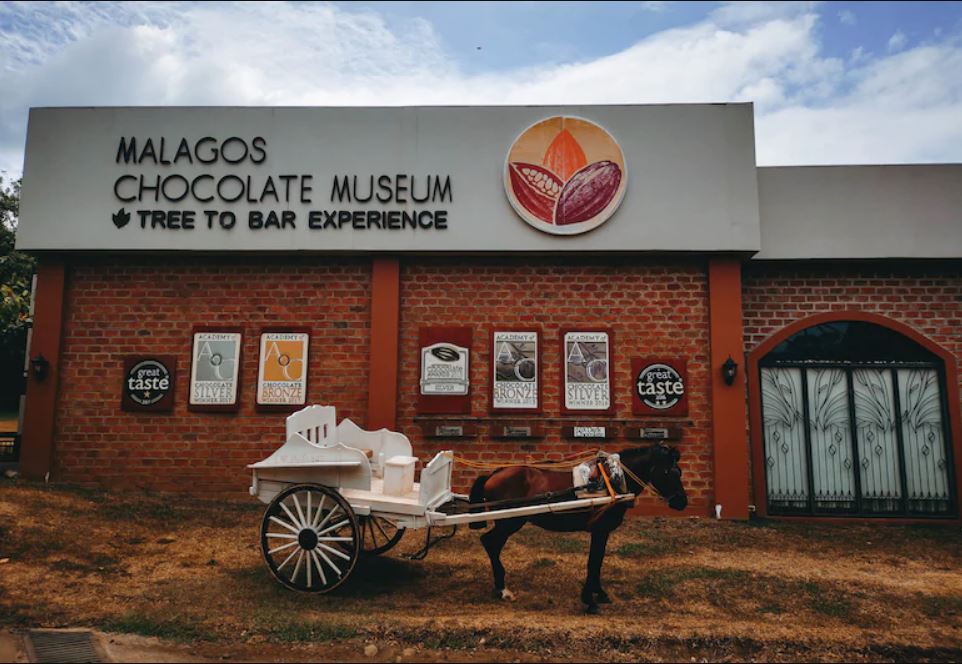 (picture reference:here)
Are you a chocolate lover? Then this place is for you!
The chocolate museum prided itself as the top cacao producer of the entire region for Davao City has become the Cacao Capital Region of the Philippines.
It is a chocolate wonderland where you will see how cacao is processed to make chocolates plus, you can make your very own chocolate in their laboratory. Also, featuring their chocolate museum mascot Beanie, he can play with kids and tell interactive stories to them in the Interactive Zone.
You can also visit the Malagos Tree to Bar tour where you will be introduced to their cacao farm and the farmers. The tour then will walk you through the chocolate making process and how they magically turn cacao beans to chocolate!
And then finally you will have a taste of even more chocolate at the Malagos Cafe. They serve foods and drinks and of course, their delectable irresistible organic healthy chocolates.
Malagos Chocolate Museum is located at Malagos, Baguio District, Calinan – Baguio Road, Davao City.
San Pedro Street
(picture reference:here)
This place is the downtown of Davao City where you will see locals and tourists alike in the area. The perfect time to go here is during the day where you will have a perfect view of the Neo-Gothic San Pedro Cathedral built in the 1800s.
It is a Historical Landmark, a place you shouldn't miss. The beautiful design of the cathedral roof resembles a sailboat.
In front of the Cathedral is a park where you can chill for a bit. It's a busy area and there are several cheap and affordable vendors selling local snacks and cheap exports so if you want to do some shopping, you'll find yourself saving a hundred bucks.
It is located at San Pedro Street, Poblacion District, Davao City.
Japanese Tunnel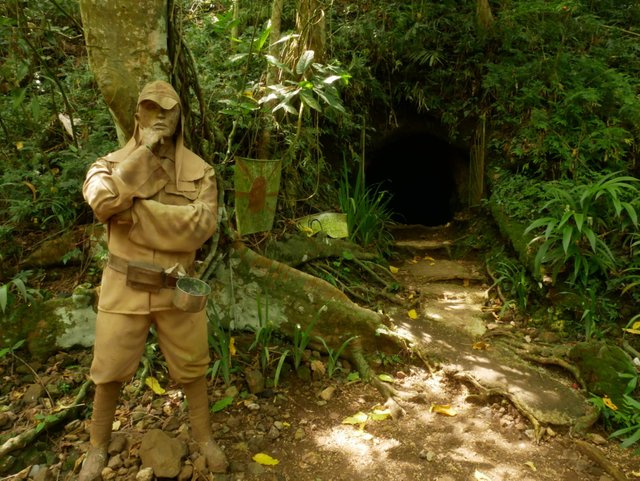 (picture reference:here)
For history enthusiasts this is heaven! The tunnel is known to have been a hideout and headquarters of Japanese soldiers way back in World War II. In the entrance you will be greeted with a statue of two Japanese WWII soldiers and inside you can do a little tour in the Japanese Tunnel. Inside you will witness World War II weapons, uniforms and some other vintage items. The tunnel is also known to be once a dungeon for prisoners during their time. It is truly a one-of-a-kind visit.
The extensive place has other accommodations like their restaurant, pool, guest room and garden.
Japanese Tunnel is located at Pan-Philippine Highway, Talomo, Davao City.
D' Bone Collector Museum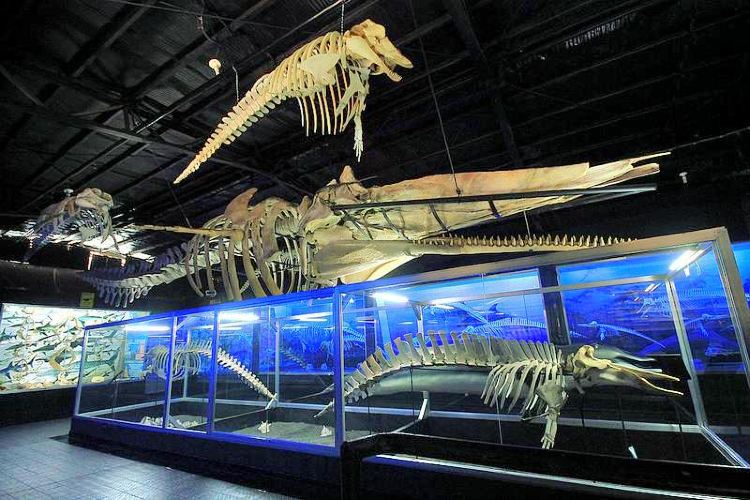 (picture reference:here)
In the City of Davao there is another peculiar and not to mention unexpected museum you can find in Davao City. And for someone who loves animal bones you would truly enjoy this museum for there are 8,000 species displayed here and is the biggest animal bone collection in the Philippines.
From land rainforest animals to deep ocean species, you will see a massive collection of well-preserved skulls, skeletons and bones from the foreigner-owned bone collector museum.
Also, you can see giant whale bones here in this museum. Isn't that exciting?
D' Bone Collector Museum is located at San Pedro Street, Poblacion District, Davao City.

Bemwa Farm
(picture reference:here)
The place had grown in popularity so fast for its rich gardens and relaxing ambiance while catering you fresh fruits and vegetables. Are you vegan or do you love just fresh salads? Then You will love this place!
The place has a variety of organic produce plus the place also grows strawberries. You can have a lovely stroll in their garden and smell the farm cold air.
Care for a time of solitude outside the city while eating green salads in a chilly place? Then I highly recommend this place!
Bemwa Farm, Davao is located at Buda National Highway, Marilog District, Davao City.
Davao Crocodile Park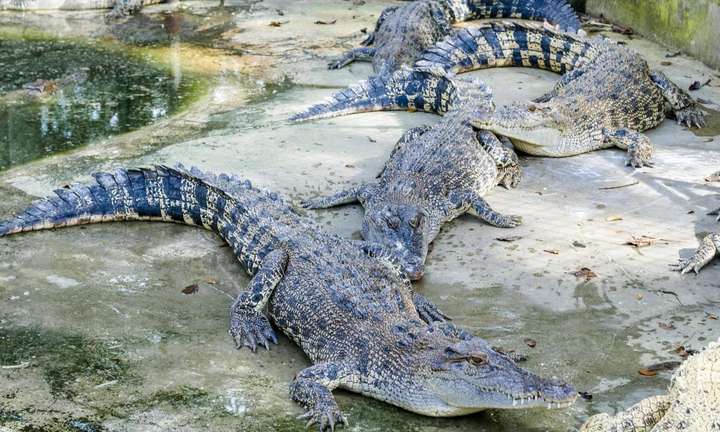 (picture reference:here)
One shouldn't miss the most popular tourist spot in Davao City and this is the Crocodile Park that houses thousands of native species of this beautiful and dangerous reptile. You can see both freshwater and saltwater crocodiles here and they also have an incubator room for their cute reptile babies!
And if you are interested in other reptiles and other animals, they also have monkeys, snakes, birds and other reptiles.
They also have another museum called Wild Museum where they have a life-sized replica of Lolong, the largest crocodile in captivity. Plus they also have a Davao Butterfly House. Now if it isn't that fascinating then you need to visit this place and discover some of their other attractions and I'll leave that up to you to discover!
Davao Crocodile Park is located at Gadi Road, Talomo, Davao City.
Eden Nature Park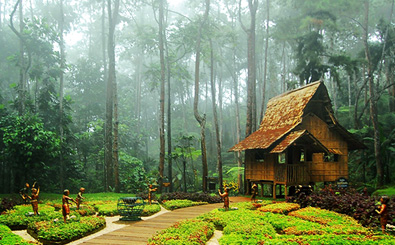 (picture reference:here)
If you want some time alone in nature then this place should be on your bucket list! Eden Nature Park is an hour ride up to its destination but everything will be worth it for the place is extensive and you can definitely unwind and relax in this place.
The Park offers a guest room, flower garden and tourist attractions like exotic birds, deer park and butterfly garden. The air here is just fresh you can smell the pine trees and you'll have a walk in the beautiful forest. The place is 80 acres so there's so much room for privacy here and didn't I mentioned there are thousands of pine and forest trees growing here?
And if you are up for an adventure and adrenaline rush, they also have a sky swing, sky cycle sky rider, horseback riding, fishing and so much more.
Eden Nature Park & Resort is located at Eden, Toril, Davao City.
People's Park
(picture reference:here)
This place is a beautiful man-made park and has four acres of tropical rainforest and carefully maintained garden, flowers, waterfalls and ponds. If you want to have a nice early jog and exercise, people are known to do their morning walks here. It's a very nice place to chill with beautifully colored park, wooden gazebos and fascinating displays of sculptures including native people created by popular local artist Kublai Millan.
People's Park Davao is located at Jalan Palma Gil Street, Poblacion District, Davao City.
Chinatown
(picture reference:here)
Other than San Pedro street, one of the busiest cities in Davao City is none other than Chinatown! It is easy to spot the place because like most Chinatown, you will enter a huge traditional Chinese archway like you are being transported to a different world. Inside are various restaurants, oriental malls, shops and other types of businesses.
What I highly recommend here is the Davao Famous Restaurant that serves mouth-watering traditional Chinese Cuisines for you'll never forget the delectable dishes they serve. And also Chinatown has several affordable and ridiculously cheap malls here it's easy to fall into a shopping spree.
Chinatown is located at Chinatown, Ramon Magsaysay Avenue, Poblacion District, Davao City.
Philippine Eagle Centre
(picture reference:here)
The place is the must-visit and the top in our list  for you will set eyes in the incredible Philippine Eagle! This conservation Centre is dedicated to preserve the endangered Philippine Eagle and to educate tourists and locals alike about conservation of these beautiful species. There you will see an exhibit of some of the eagles up close and you'll have an unforgettable opportunity to witness this majestic huge winged-creature.
The Centre also housed some other exotic endangered creatures like snakes, monkeys and other fascinating creatures.
Philippine Eagle Centre is located at Malagos, Baguio District, Davao City.
Conclusion
So which place excites you the most in the list? Are they included in your bucket list now?
Visit all the fascinating tourist destinations and you might see Davao a beautiful home as well. Comment below if you are interested in more topics like this.