Davaoeños loves so much to just enjoy and chill and one of their qualities is that they are pretty indulgent and easy-going people. And one of their favorite things to do is to drink coffee!
If you are searching for coffee beans, please check below article as well.
7 Coffee Beans Shop Where You Can Buy Original Coffee Beans In Davao
15 Best coffee shops or cafes for you in Davao
On this page in We Love Davao, I'm going to list the 15 best coffee shops in Davao that Davaoeños love to visit and hang out at. And don't skip or you'll miss each of these interesting coffee shops with its own specialties. Here we go!
VNL.DVO
(picture reference is here)
Newly opened cafe in April in Obrero. The shop is small but well organaized and can provide made well one by one. If you want to feel luxury time, I highly recommend this shop.
You can also order delicious pastry aside from your favorite drink.
The operating time is from 8am-8pm(only Sunday is 2pm – 8pm). Visit here and feel relaxed.
Location: Obrero One Palma Gil Building, VNL DVO, One Teodoro Palma Gil St
Craft Coffee
If you want to drink homegrown coffee, we recommend this place "Craft Coffee". They serve newly homegrown coffee using the original machine so you can enjoy the taste of the real coffee. They also serve some special cofffee made by premium coffee beans. If you love coffee, come and enjoy their coffee.
Facebook page is here
Kultura
(picture reference is here)
If you are searching for deep taste coffee, here "Kultura" is the best choice for you. You can drink delicious coffee from 60 peso and the taste is really good. The coffee is not sour at all and you can feel good bitter taste. You can order coffee via Grab food so if you want to enjoy delicious coffee at home, you can use here as well.
Facebook page is here
Kiel's Coffee
If you want to drink delicious coffee and stay in the comfortable cafe, we recommend "Kiel's Coffee". The delicious coffee is from 90 peso and the room is well organized so you can enjoy taking pictures as well. They are also doing the coffee workshop so if you want to know more about coffee, please visit here and enjoy!
Facebook page is here
Curve cafe
(picture reference is here)
If you are searching for the delicious coffee and well designed cafe, here "Curve Cafe" is one of your choices. They offer well chosen delicious coffee. The cafe is small but all items are well organized so you can feel comfortable and good for pictures.
The coffee is a little sour so i think good with fruit cookie or cake. They also offer some baked goods so you can find your preferable one.
Facebook page is here
Cafe Firenzo
(picture reference: here)
Signature coffee and great pizza? No problem. 
Cafe Firenzo serves unique coffee that you can only taste here and you'll keep coming back here for the same reason. It's a great place if you want to unwind and eat tasty dishes that they serve. They have pizza, burger, cookies and many more. Plus the space is really spacious so if you'd like some privacy when you want a quiet time for yourself to bond with your coffee or a time for your friends to chill. I recommend this place.
Location: Mamay Rd, Lanang, Davao City

A Zen Cafe
(picture reference: here)
If you are searching for the comfortable and reasonable price cafe, I recommend the cafe "A Zen Cafe". The location is along J.P. Laurel avenue so easy to access from main road. The building is still new so you can stay here comfortably. The drink is from 95 peso(american coffee) and you can order delicious food as well.
There are multiple types of chairs so good for 1, copple and group as well. Come here and enjoy your time freely.
Facebook page is here
Sea Green Cafe
(picture reference:here)
This place is one of the go-to places for an easy and quiet time to enjoy coffee and to have their breakfast, lunch or dinner for they serve all three of these kinds of meals. They have the tastiest pasta, sandwiches and salads so you shouldn't miss it. The cafe has a serene ambiance and an aesthetic feel and the chef will serve you spectacular meals you'll keep coming back for. Perfect!
Location: 15 Emilio Jacinto Ext, Dona Vicenta Subd, Davao City

The Coffee Bean and Tea Leaf
(picture reference:here)
Coffee lovers are raving about this place for they serve different varieties of coffee servings for every mood and truth to be told, they serve delicious coffee here and the place is just perfect to de-stress yourself here. Also, they have varieties of teas so you'll never get tired of the taste. And it's no wonder why this place is loved in different parts of the world and even Davaoeons for they have been around for quite awhile…they are the oldest coffee chain in the US. 
Location: Gf J.P. Laurel Ave, Bajada, Davao City

FROG Kaffee
(picture reference:here)
FROG stands for (Fresh Roast of Great Kaffee) for german is one of the unforgettable coffee shops you'll ever come by for it's sophisticated, classy ambiance and for an affordable price, you'll have amazing coffee art latte servings. The place itself is already great and if you want to dine while drinking your coffee cup, they also serve delectable dishes served by their skilled chefs. FROG Kafee also educates everyone to support local coffee farmers such as in Mt. Apo and they also serve these local coffees for you to enjoy. 
Location: Prime Square, F. Torres St, Prime Square, Davao City

Cafe Antoccino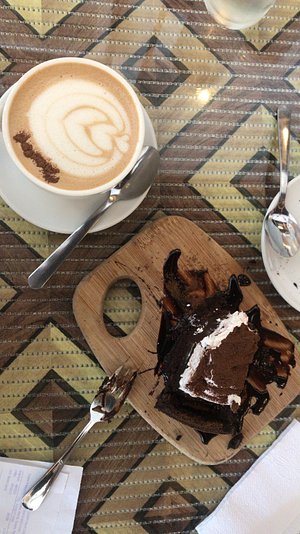 (picture reference:here)
Another one of the best places to drink coffee is this place. They serve mouth-watering American-European dishes that are of high-quality plus they have the best cakes in town so much as customers keep coming back for these dessert treats. They also sell Italian coffee grounds you can take home.
And their coffee? They serve pure and fresh coffee. The place is really charming and homey and the staff are really accommodating. 
Location: Guerrero St, Poblacion District, Davao City

Blugre Coffee
(picture reference:here)
How about a taste of durian…in a coffee?
This list wouldn't be complete without this over the decade-old coffee shop that serves the staple of Davao City's famous fruit..durian! And did you know that this is one of the first coffee shops in Davao? This place is very special for Davaoeños. And who wouldn't think that there could be a durian coffee? They invented this type of coffee so anyone who doesn't like durian at first because of its pungent smell will love durian this time for you wouldn't smell it but rather will just taste it! And they also serve their bestseller pastries and cakes that Davaoeños keeps coming back. Just. visit. It.
Location: Ground Floor, SM City Davao, Quimpo Blvd, Davao City

Coffee at Yellow Hauz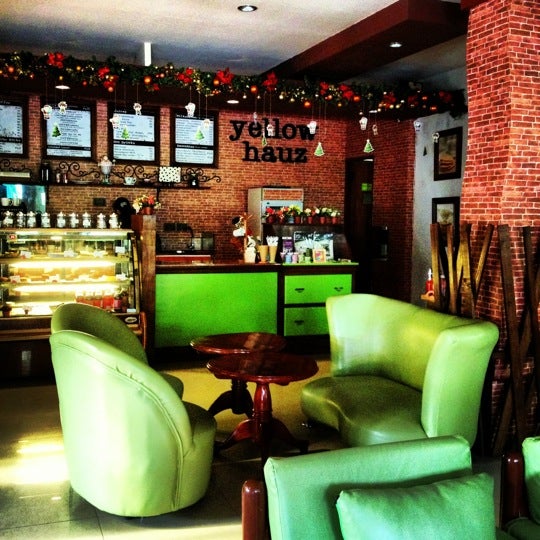 (picture reference:here)
Hidden amongst coffee goers is this gem of a place for you'll truly have a relaxing time and delicious treat for their menu. They serve excellent Filipino-western dishes and top-notch coffee. I personally like their pizza, pasta and it's one of the only places in Davao City that serves relaxing and fascinating blooming tea! What I like about this coffee shop is that it's located in a not-so-busy area so you'll enjoy your stay here to your heart's content.
Location: V. Mapa Street, Corner Mabini St, Davao City
Coffeecat
(picture reference:here)
This unique shop has so many things in store for you with their signature coffees that would make you stay awake and bestselling desserts like cheesecakes and frozen yogurts! You must try their variety of cheesecakes for they are loved by Davaoeñoes. The cafe also serves dishes like pasta, milk tea and many breakfast meals perfect to go-to in the morning. The place has a  calming ambiance that you'd love to just stay and lounge plus the staff would really accommodate you and make you feel special.
Location: Emilio Jacinto Ext, Poblacion District, Davao City

Cafe Demitasse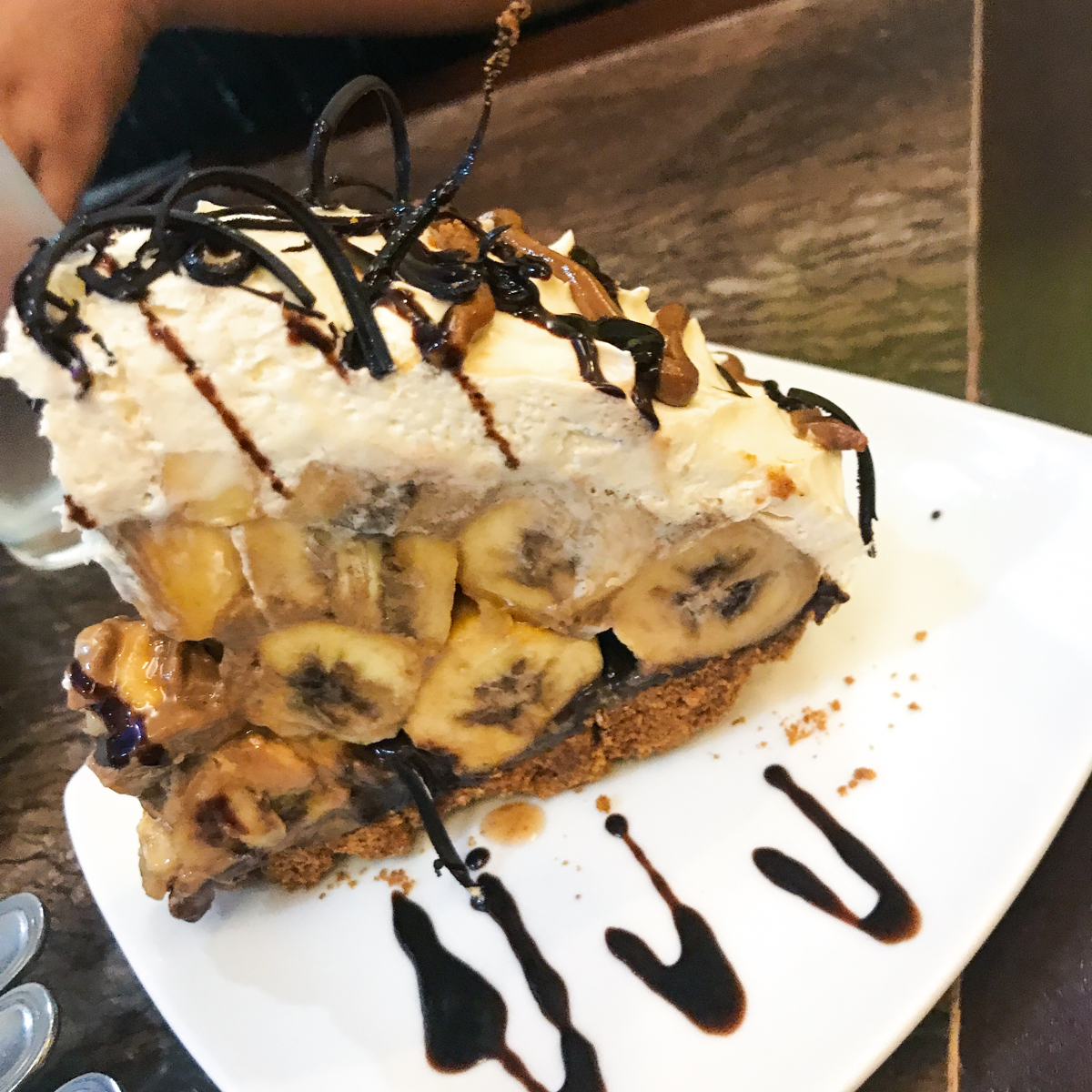 (picture reference:here)

This place is one of the best coffee shops in Davao City and they also serve the best pastries and full meals. The owner chefs are super friendly and the ambiance is comfy just perfect for drinking coffee. They have different types of coffees and they even have frappes. Also, a lot of people visit here just to try the famous banoffee pie, a sweet baked bananas filled with caramel, drizzled with chocolate sauce. And all you have to do is see for yourself and find out why it's one of the best. You'll never regret it. 
Location: 727 F. Torres St, Poblacion District, Davao City

Conclusion
So are you a coffee lover? Which place you'd love to try first? Let us know in the comments if you've visited one of these coffee shops and tell us what's your favorite meal…and of course coffee. We'd love to hear from you, coffee addicts!