Davaoenos love milk tea so much that you would probably come by several shops here in Davao City. It's one of the well-loved foreign drink that we just can't get tired of. But which one is the best?
Too Many Milk Tea Shops In Davao?
We picked the 12 best milk tea shops that give off unique flavors that Davaoenos keep coming back for. Interested? Then you mustn't miss any on the list. Check them out!
We got cha!
(picture reference:here)
we got cha! is one of our top list milk tea shop. Creamy and rich in flavor, as most of the milk tea products that they always buy are bland and very commercialized.
This shop is affordable yet the quality is good as well. They also serve Cream Cheese Tea, Fruit Tea, Yakult Series, Ketogenic Series, Kopi Cham, Chocola Tea. If you wish to eat something  they can also have food menu. Plus you can choose what sugar level would you prefer. The place was good and friendly environment as well.
Hokkaido Milktea
(picture reference: here)
The Hokkaido milk used in Tea makes it smooth and creamy because of strong milky flavor. It tastes like intense caramel and memorable aroma. It has creamy milk tea with a unique caramel taste and used in many other puddings, Pastries, cakes etc. Try and see Hokkaido Milktea.
T-Cube Milk Tea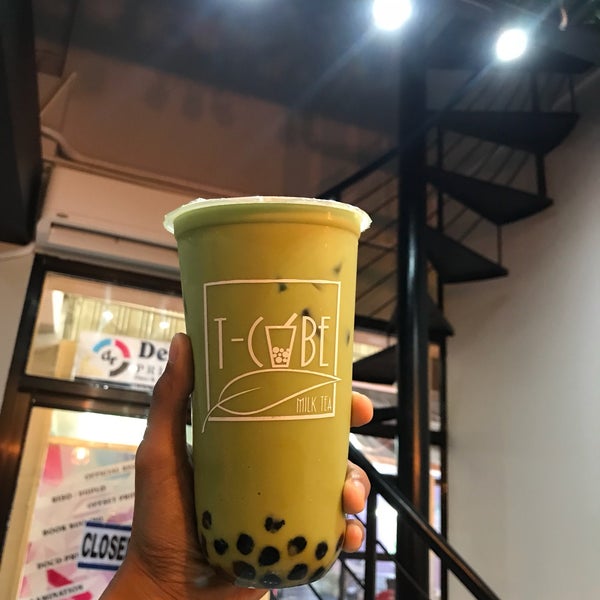 (picture reference: here)
A Davaoeno-owned milk tea shop, T-Cube Milk Tea is a secret haven for milk tea lovers for not only they have a great place but some claimed they have better milk tea than the popular milk teas in town. They have a variety of sweet milk teas and two of their bestsellers are T3 Special Milk Tea and Oreo Cream Milk Tea. It's definitely worth a try plus, you don't have to line up just to get your cup of milk tea.
Location: 420 Sampaguita St, Buhangin, Davao City, Davao del Sur

Macao Imperial Tea
(picture reference: here)
Another one that topped our list, people had been raving about Macao Imperial Tea with their cheesecake milk tea drinks. Their soft, chewy boba pearls are really good and the tea in their milk tea is legit. The cheesecake milk tea is a favorite for its really unique and distinct flavor it gives off. You have to wait in the line, though for a lot of Davaoenos had been going to this shop. So if you're a fan of cheese, then it should be on your must-try list.
Location: Abreeza Mall, 2/F J.P. Laurel Ave, Poblacion District, Davao City, Davao del Sur

Gong Cha
(picture reference: here)
This classic milk tea style had won the hearts of milk tea lovers and even the Davaoenos are swooning over it. If you're the type that doesn't want too sweet milk tea with too many added stuff and just wants the classic milk tea blends, then this milk tea house is for you. Their Wintermelon Milk tea is still the best you're not going to regret it.
Location: Abreeza Mall, J.P. Laurel Ave, Poblacion District, Davao City

Toptea
(picture reference: here)
This local milk tea shop had been around since 2014 and they still have tasty milk teas that people had been coming back for. Their brown Sugar Milk Tea With Cheese Moose is their bestseller and the all-time favorite. Hungry? They are also known to deliver delicious pasta and other rice meals. You gotta try their shop for it's still around for a reason.
Location: F. Torres St, Poblacion District, Davao City

Cha Time
(picture reference: here)
One of the always crowded milk tea shop because everyone's lining up here and for good reason as well. They serve real milk tea, like legit tea, not the powdered ones. Cha Time is one of the reputed milk tea chains all over the world for it's also freshly brewed tea on their milk tea plus it's one of the pioneering milk tea brands from Taiwan. One of their bestsellers is Pearl Milk Tea and my personal favorite is their cold flavored tea because we're a true tea lover, not just milk tea lover. Try it!
Location: SM Lanang Premier, J.P. Laurel Ave, Lanang, Davao City

Serenitea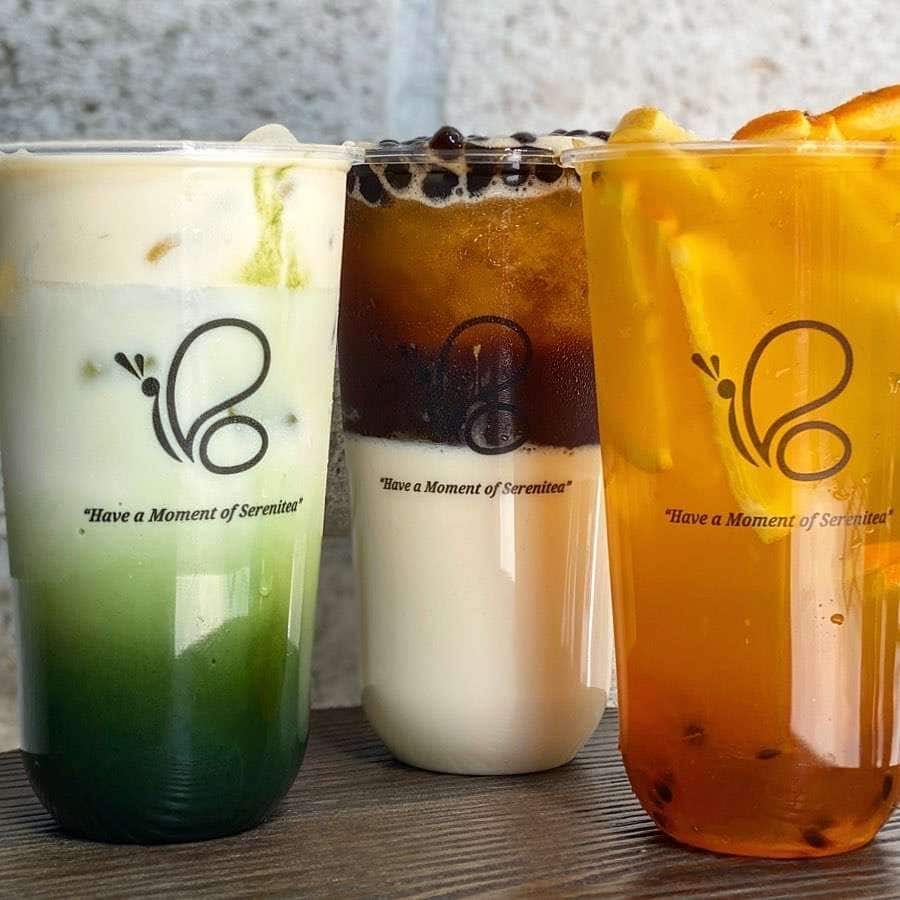 (picture reference: here)
The milktea shop indeed speaks for its name. Serenitea.
The place itself is really relaxing with a milktea in your hand plus some scrumptious snacks to pair it with. Yes, they serve healthy snacks like peppercorn, hash brown, chicken chops, and more. But let's talk about their tea for they have a teapresso which their tea is freshly brewed! yes! This is what's unique in this milk tea shop. Their bestsellers are the Okinawa and Hokkaido milk tea plus some sinkers add into it like pearls and coffee jelly. Their milk tea is just spectacular no wonder it's always packed.
Location: Lacson St, Poblacion District, Davao City

Fiftea
(picture reference: here)
One of the most overlooked milk tea shops in Davao City but still delivers, Fiftea Milk Tea Shop have solid followers over the years not only due to some of their milk tea that is super affordable but also, they housed some of the unique and delicious milk tea flavors namely the Ice Cream series and Milk Tea coconut mixes. No flashy cups and branding but the taste is the real deal. You shouldn't underestimate this milk tea for this had been operating for years in Davao City and well, we all love it, too.
Location: Quimpo Blvd cor. Tulip and Ecoland Drive, Ecoland Subd, Davao City

Tiger Sugar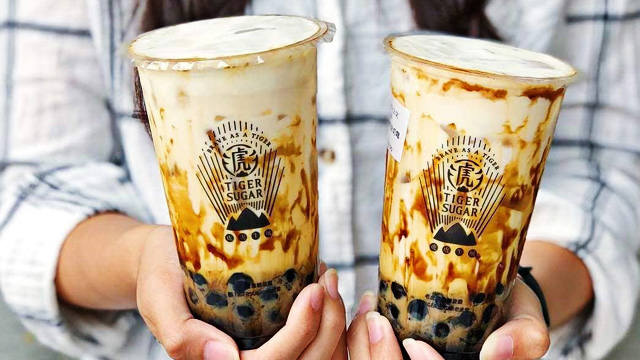 (picture reference: here)
This milktea shop from Taiwan had been growing its popularity rapidly all over the world that now, they already have a branch in Davao City. Tiger Sugar serves specialized brewed milk tea, variants of brown sugar milk teas with fresh and hot tapioca pearls. The hype is real for the flavors of their milk tea are top-notch and unique to other milk teas you've tasted so far. If you think you're not a fan of sugar and don't like sweets that much, well you'll be surprised that their milktea isn't that sweet at all but just perfectly balanced on its taste. The actual taste is delicious, you'd definitely keep coming back. And oh, we recommend their Tiger Sugar Brown Sugar Boba Milk.
Location: Abreeza Mall, Poblacion District, Davao City

Happy Lemon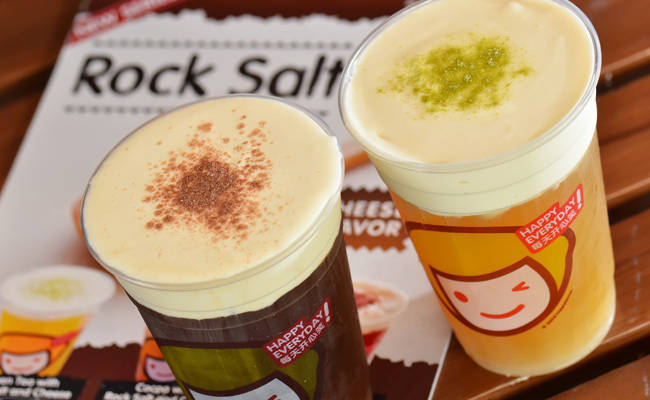 (picture reference: here)
Another personal favorite and I might be a little biased, one of the earlier milk tea shops that opened in Davao City that stuck to Davaoenos because they are that good! True to its name, a cup of Happy Lemon really makes you happy.  Happy Lemon is still one of the sought-out milktea shops until today. They have a wide variant of milk tea flavors and each one is a surprise of taste. Their bestsellers are the rock salt and cheese series which are all-soo good. I recommend the jasmine (which is heaven for me!), green tea, matcha, oolong, coffee flavor topped with rock salt and cheese. If you've tasted one of their milk teas and made it your favorite, you might be stuck on that flavor for a while. Trust me.
Location: The Peak, Gaisano Mall, J.P. Laurel Ave, Bajada, Davao City
Loveland
(picture reference: here)
Want some freshly-made pearls in your milktea? Then LOVELAND will give that to you. One of the best and tastiest milk tea that opened in Davao City, LOVELAND had gained a huge cult following the moment they opened their store…and it's not just because of the hype but it's because their milktea is no joke. It really gives off a new taste that would definitely make you think of all the milk tea you've tried so far…because it's that delicious! The container itself is already unique to the eyes contrary to the usual milk teacup and moreover what's in it. They said that they use premium whole tea from the mountains of Tainan, Taiwan, which gives off a distinct smell and unique taste. Isn't that awesome?
My favorite? the classic green milk tea with boba. I'd encourage you though to try every one of them. It's all delish.
Location: SM Ecoland, 3rd Floor, Tulip Dr, Talomo, Davao City

Conclusion
It's really a tough list to write on to for there are several milk tea shops in Davao City and we love to look for milk teas that are unique and has it's own distinct taste, real tea added, not just for the hype and we want to deliver honest review. What do you think is the best milk tea shop in town? What is your favorite milk tea in the list? Let us know in the comments because we would love to spread the word.