Whether you're a tourist or a local, experience Davao City at its fullest where you will meet Davaoeños, young and old in places you can be yourself…and meet new friends in these clubs or bars!
If you want to know Covid-Free drinking places, please check the article below.
Party or Casual Night Out?
Are you excited now? I will list 10 of the favorite places Davaoeños go for nightlife at no particular order. So ready your best clothes and let's go!
Jickongs
(picture reference: here)
Friends, colleagues, buddies love to go here for the place is usually an open space and it's nice to stay here to eat and drink with group of people. Jickongs is usually crowded with young people and they have a few branches in Davao as well. It's one of the easiest place to access to because for as early as 3 pm, this place is already open for drinks! So expect this place to be packed at night for Jickongs is also known to serve delicious comfy food plus affordable drinks.
Location:  Matina Town Square, MacArthur Highway, Davao City

Fowlplay Kitchen + Dive Bar
(picture reference: here)
Recently won a spot at Tatlers T.Dining by Philippine Tatler this 2020, this bar is gaining popularity fast. They have a spectacular selection of dishes on their menu that had won the hearts and stomachs of Davaoeños plus they serve high-end drinks in the bar. They play good music so you'd love staying here to unwind while you drink. If you want to start your night with good food before you drink, then you need to go here.
Location: 115 P Pelayo St, Poblacion District, Davao City

Huckleberry Southern Kitchen & Bar
(picture reference: here)
The place is always packed here because it's one of the popular drinking restaurant and bar in Davao City so not only people go here to eat but usually, they finished it with drinking! Huckleberry is one of the high-class bar in the heart of Davao City and they serve variants of high-end cocktails and drinks. Plus, their food is exceptional! If you are into drinking in class with an easy atmosphere, then you need to go to this place at night for dinner.
Location:  Oboza Compound, Rizal St, Poblacion District, Davao City

Wav Entertainment Central
(picture reference: here)
Not many people know this place particularly foreigners or tourists and that's because only locals know about this. If you want to listen to great live bands and DJ's then this is the place to be. Wav Entertainment Central has a spacious dance floor where party people can dance till early morning and has couches and lounges for you to chill out. The club is pretty cheap for the entrance fee of only 100php (1USD) plus one complimentary drink.
Location: C. Bangoy Street, Davao City

Stre3ts Urban Lifestyle Pub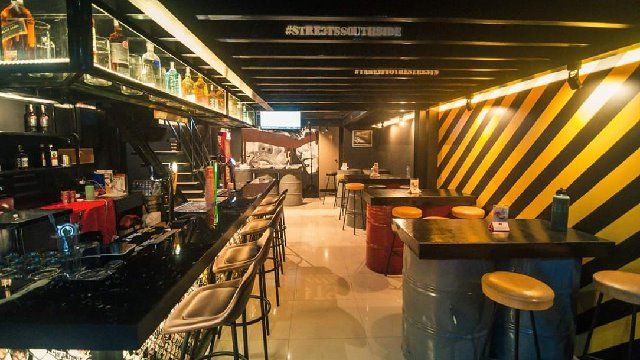 (picture reference: here)
If you want to enjoy good, artistic food with unique styles and innovative alchoholic drinks then this place is for you! This is a Western-Irish style pub so you'll get to be fascinated to the mixture of different styles here.
It is a nice place to jam for they play good music here as well. The plating here is Instagrammable and it's very easy to meet new friends around. There's no entrance fee here, you just need to order your food and drinks. This is one of the hottest place young people go to to drink and to enjoy with their friends.  Plus their food and drinks are excellent you'll keep coming back. 
Location: Jj'S Commune, Loyola St, Poblacion District, Davao City

Alcatraz Penal Bar
(picture reference: here)
A club for all, Alcatraz Penal Bar is another one of the clubs that locals and foreigners go to. You can party till late in the morning here and at a very cheap entrance fee for only 50php (1USD) only! They also have couches and tables if you just want to drink and chill. And if you're famished, they also food full meals so you wouldn't worry. DJ's also play the hottest music so you can dance with partygoers here. Young and old, it doesn't matter for you can have fun, party with people, and meet new faces.
Location: Sputnik St, Poblacion District, Davao City

 Matina Town Square
(picture reference: here)
If you'd like one place where you could find several restaurants and drinking bars then you'd definitely hang out in Matina Town Square for there are so many affordable resto-bars lined up in this area. Young and old, Davaoeños flock here to enjoy a busy and enjoyable nightlife. There are a few open space resto-bars here where people could be seen drinking and eating and a park where you could chill. Plus, there's a stage there where live bands perform so everyone can listen to while enjoying their food and drinks. You can't be in Davao City if you haven't been to this place.
Location: Davao-Cotabato Road, Talomo, Davao City

The Grid At Alley Bar
(picture reference: here)
People who love to dance and watch people have fun go here for it's one of the cheapest bars in town, too. Price for the entrance fee is only 50php (1 USD) only! The owner wants the club to be crowded and fun so it's pretty accessible. You can order drinks of your choice such as beer, hard drinks, cocktails etc and some finger foods to partner your beverage. The crowd goes wild here every night and every Wednesday there's a dancing competition for partygoers to who's the best dancer. Cool! 
Location: Palma Gil Street, Bo. Obrero, Davao City

Potions Bar & Lounge
(picture reference: here)
If you want a secret party place at night, well at least kind of secret then this bar is not much known to most tourists but very much known to young Davaoeños! Great DJs play latest upbeat music here and the atmosphere is always exhilarating for everyone is dancing and drinking. This is a fun place if you'd like clubbing and to just simply enjoy dancing with a lot of people. And they serve finger-food snacks as well to partner your drinks.
Location: Plaza de Bole, F. Torres St, Barangay 12-B, Davao City

Club Echelon
(picture reference:here)
One of the hottest clubs in Davao City, Davaoeños and foreigners go here to party all night and make new friends. It is an upscale club with the greatest DJs to play the hottest and latest songs. It has an entrance fee plus a complimentary drink with it. The club also serves delicious dishes and snacks like pizza, oven-baked chicken, roasted pork belly etc and for drinks cocktails, tequila, rum, and many high-end branded drinks. The place would go a little crowded when it hits almost midnight for partygoers will start coming.
It is a comfy air-conditioned club with a couch area and if you just want to stand up and ready to dance, they have a table for it, too. The price of their entrance fee is 200-250php (4.16-5.20 USD) per person.
Location: 6th Floor The Peak Gaisano mall, Davao City

Conclusion
So which bar would you like to party first? Have you been to one of these clubs or bars? Let us know in the comments if you'd like to know more about Davao's nightlife!