A wine spa?  A cat cafe? How about a farm-to-table restaurant?
You can't just only find this in other countries but here in Davao City, we have unique places in store for you. Are you ready?
In We Love Davao, we list 10 places that would make you curious.
Unique Places You Can Eat to in Davao
I will introduce you to places that are unique, extraordinary, and unconventional places you can eat to…and do different things! So don't skip this article or you might miss some of the places you'd definitely find interesting. Here it is!
Purrbox Cafe
(picture reference:here)
I've mentioned earlier a cat cafe. And true enough, there's a cat cafe in Davao City where you can bond and play with their cute and beautiful cats of different breeds. And not only that, you can eat in the cafe served by their cat-lover chefs while playing with their cats. Inside the cafe is a display of various cat trees (cat houses) where they will run, hide, play, and if they like you, will get close to you. Their cafe serves delicious pasta, sandwiches, cookies, milk teas, and many more mouth-watering meals. Don't forget to order their bestseller bolognese. It's the best!
Also, you can buy cat supplies here for your kitties at home.
For cat lovers, isn't that heaven? It's cuteness overload.
Location:  Door 7, Belles Apartment, P. Sobrecarey St, Poblacion District, Davao City

Nailstalgic Nail Salon + Cafe
(picture reference: here)
If you want a place where you can pamper yourself while eating some delish snacks then this place is possible in Davao City. This is a nail salon at the same time as a cafe. Their services includes waxing services, manicures, and pedicures. It is a cafe so the food will be delivered next to you while you are being treated by their lovely attendants. They have milkteas with Nutella, white rabbit flavor, waffles, snacks, desserts and so much more. And the place is so aesthetically relaxing to the eyes. Isn't that exciting?
Location: JJ's Commune Compound Loyola St., Obrero, Davao City

K1 KTV Cafe And Spa
(picture reference:here)
How about a spa where you can have a relaxing time to get a massage, have a facial, some luxurious body treats like milk body scrub and then after that eat some great meals and sing karaoke! K1 KTV Cafe and Spa is the place if you want all three of these without going anywhere. Now isn't that an awesome place? Their menu has a lot of Filipino-Chinese, foreign comfort food like delicious sisig, chicken and pork rice meals, soups, pizza, etc. And if you are up for a pampering time, then they have a full body massage and body scrubs that would suit your mood. Plus they have facials to partner with it. And lastly, a time to just let loose and sing your way to the night in their karaoke room. The place has all you need to have a great time with friends and family.
Location:  247 F. Torres St, Poblacion District, Davao City

Pawsome Dog Cafe
(picture reference: here)
If you're not a cat lover then this time I'm sure you're going to love this place for this is a Dog Cafe.
The cafe is a two-story building to keep the place clean and hygienic. On the first floor is the dining area where you can eat your meals and on the second floor is where the dog's playpen where you can visit and play with the doggies. They have various dog breeds you can play to in the cafe and, yes, they serve milk teas and full meals at an affordable price. Their pork chop and lasagna rice meal and nachos are top-notch. Yum!
If you want some slice of happiness then this is the place to be.
Location: Gaisano Mall of Davao, 15 J.P. Laurel Ave, Bajada, Davao City

The Vegan Dinosaur
(picture reference: here)
Do you want to eat guilt-free scrumptious burgers, tortilla chips, pasta meals, and chocolate brownies or donuts for dessert? Well, look no further for this restaurant is a true vegan diner. Just ask the locals for this place is well-loved by healthy eaters or vegans. They have several veggies and fruit dishes that would amaze you for their innovation and artistry at the same time amazingly fresh, healthy, and organic! The owner itself is a vegan so you'll feel the dedication for putting the healthy choices on the menu. So don't panic, it's organic.
Location: Door A, Values School, Ruby St, Poblacion District, Davao City

Glasshouse Coffee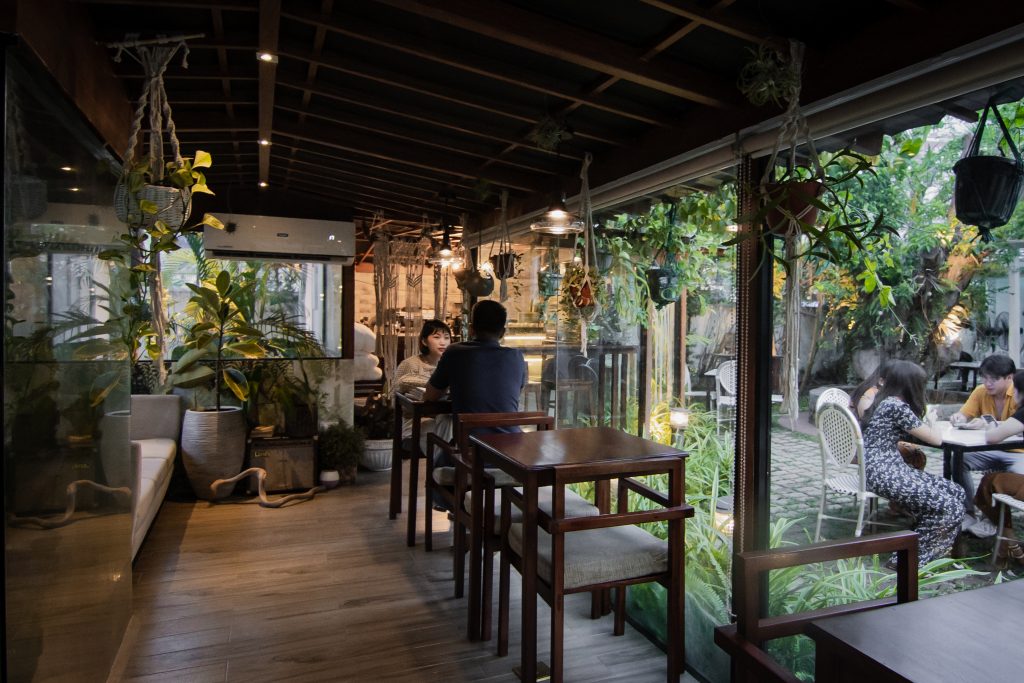 (picture reference:here)
If you're the type of person who likes a quiet time just to sit and be alone with your served coffee and meals and just read some books then there is a secret spot (well, not a secret anymore 🙂 where you can just drink all the sweetness of the peaceful and comfy ambiance. Glasshouse Coffee doesn't only offer wonderful varieties of coffee drinks, great desserts, and snacks, and what's special about this place is that they have books on display in their coffee shop for you to borrow during your stay in their place. Plus at night, you can unwind moreover for they have live bands playing local music while enjoying the simple but classy atmosphere.
Location: At the Garden of Oboza Heritage House, 143, Rizal St, Poblacion District, Davao City

Eatside Diner
(picture reference: here)
Do you want to play board games like monopoly, Jenga tower, chess, and many more while enjoying some delectable all-time favorite Foreign and Filipino meals? Then you need to visit this place now for you'll be served great meals to one of the most visited cafe restaurants in town! They have a great variety of meals like burritos, burgers, Filipino rice meals, etc. A lot of locals and foreign nationals had been visiting this place for its excellent dishes and its comfy vibe. You need to check this place now and bring your friends in to play games! And the food is really delicious it's been fetching great reviews.
Location: Corner bonifacio, Artiaga St, Davao City

Zion: Hidden Garden Jacuzzi Hill
(picture reference: here)
Do you want an easy getaway to unwind and breathe fresh air while in a hot tub?
Davaoenos are raving about the new jacuzzi in the hill where you can enjoy a cool and beautiful relaxing view uphill overlooking the city of Davao and a view of Mt. Apo while relaxing in a hot tub. It's a resort where you can stay at night but if you just want to stay in a day just for the jacuzzi then it's perfectly fine. You can enjoy the hot tub for an hour while a table is prepared next to it for you to have their afternoon tea delight with tea, delicious nachos, etc! What a relaxing thing to do. Are you already imagining it?
Location: DCBC Tower, Shrine Hills Rd, Davao City

Huni Farm
(picture reference: here)
Everything is fresh here!
Huni Farm is a buffet restaurant + farm where 80 percent of their menu comes from their very own farm. Their menu depends on the availability of what's on their farm based on the weather and season so the food they serve always changes. But no need to worry for they serve a variety of dishes on their buffet table. There are both Filipino and Western dishes so you have a lot to choose from.  And you can even visit their farm of vegetables, fruits and livestock for their owner want to educate people about farming and growing your own garden. The fresh and organic dishes are delicious with the recipes like no other. And they would let you dine at their garden table full of flora and fauna for you to feel the nature and mountain air. So if you're a lover of veggies or a vegan and nature lover, then you will definitely love this fresh farm-to-table homecooked restaurant.
Location: Wangan, Calinan District, Davao City

Apo Wine House
(picture reference: here)
And lastly, Apo Wine House where you can have a wine bath and wine spa! Yes, you read it right, your dream of having a luxurious wine bath is not just a dream anymore…because it's just in Davao!
This is the only wine bath + spa in the Philippines and you can visit it in the outskirts of Davao City in Kapatagan just near Camp Sabros. And this type of wine is not just an ordinary wine for it is a mangosteen wine from the local farm-grown mangosteen fruit. So expect some organic, healthy wine bath and spa. And this fascinating haven is unlike any other experience you can have in Davao because it doesn't only have the already unique wine bath and spa but it also has few other accommodations namely, a buffet restaurant where you can dine in their generous variety of dishes, drink their own wine and some bonfire at night if you chose to stay. The place has astoundingly aesthetic furniture and decorations that are instagrammable. Expect a cool temperature for it's located 4000 ft above sea level. Enjoy a foggy, chilly night from their bonfire and fireplace.
Location: Brgy. Kapatagan, Digos City, Davao del Sur

Conclusion
Are you excited to experience these unusual places on this list? Which one do you think is the most unique and exciting? Let us know in the comments!